Interesting Nectar card facts and why you should use Nectar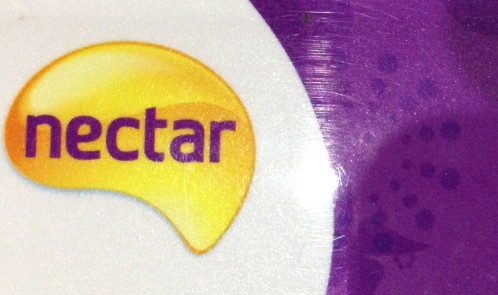 Now I am a loyalty card fan and Nectar is one of my favourites, so I've been checking my points balance and was happy to find out that I have enough for some lovely goodies at the Nectar eShops.
I know that most of you will have a card, but even if you have, here are some really interesting facts about the card and why if you haven't got it, you should get one now!
The most important facts

Nectar is the UK's largest loyalty programme with over 19 million cardholders earning Nectar points when shopping for groceries, doing DIY, booking a holiday, paying household bills, buying petrol and even getting their car serviced
Nectar was awarded the "Best card-based loyalty programme" at the 2012 Loyalty Awards for Europe and the Middle East
Thanks to the large variety of Nectar partners such as Sainsbury's, Homebase and American Express, it's estimated that cardholders are able to collect points on over 50% of their household spend
In most cases, cardholders collect 2 Nectar points for every pound spent.
When redeeming, 500 points is equivalent to £2.50 but there are often offers to make points go further
Nectar often run bonus point promotions where cardholders can collect double, triple or even quadruple the usual amount of points on purchases
Nectar eShops is an online shopping portal which enables Nectar cardholders to collect Nectar points with more than 500 brands online, including The Apple Store, Topshop, ASOS and Debenhams. www.nectar.com/eshops
Nectar cardholders and eBay users can now collect Nectar points on every purchase, including successful 'buy it now' transactions and auction bids by simply linking their Nectar card with their eBay account
Nectar points aren't only available on shopping. British Gas customers with a Nectar card are able to collect bonus points when switching their account to Direct Debit, registering for paperless billing and submitting a meter reading each quarter
Nectar points are also collectable through donations to Oxfam through the 'Tag Your Bag' scheme. By signing up online, cardholders can earn an initial 100 points as well as 2 Nectar points for every £1 on donated items sold in UK stores. All quality donations are welcomed as part of the initiative including books, music, clothing and homewares. www.oxfam.org.uk/tagyourbag
Nectar Swim is a new initiative as of June 2013, where cardholders can exchange their points for discount swims at 400 local pools across the country. Prices start from £1.50, or 300 points, for a child's swim and £2.50, or 500 points, for an adult. Family swims are on offer from as little as £7.50, or 1,500 point with an average saving of 40%. www.nectar.com/swim
The annual Nectar Savvy Family competition was started in 2009 to search for the UK's savviest family. The chosen families from across the country are given the chance to blog their best money and time saving ideas and tips over five weeks to be in with the chance of winning a prize bundle from Nectar partners worth £5,000
Nectar points are worth double the value when used to purchase tickets to Merlin attractions such as Alton Towers, Thorpe Park and Chessington World of Adventures
Remember to fill up your car with fuel at BP as Nectar points can be collected on fuel and in the forecourt on purchases
What nifty technology can help you with Nectar points
The recent launch of the updated Nectar app also makes collecting points easier. The popular Nectar iPhone and Android App gives shoppers access to exclusive, personalised offers as well as the ability to collect Nectar points quicker than ever before. The App allows card holders to collect points at over 60 online retailers, find nearby Nectar partner stores and also give instant access to check Nectar points balances on-the-go. The Nectar App is available free from the Android marketplace and the iTunes App store. To find out more visit www.nectar.com/app
Here are some reasons to download it:
Even easier access to your Nectar offers
Check your Nectar account balance on the go
Shop and collect points with over 500 online brands at Nectar eShops
Collect Nectar points by searching the web with Yahoo! through the app
Use the store locator to collect and spend points
Download the Nectar Search Toolbar to collect points on your everyday internet searches and collect 100 bonus points on the first download. The toolbar also alerts cardholders when they're on a site where they can collect points. nectar.com/collect/toolbar/home.points
How do you get a card?
Nectar cards are available from most Sainsbury's stores or can be ordered via Nectar.com. To get the most out of the Nectar loyalty programme, cardholders should register their card as soon as possible. To register:
Visit Nectar.com to register online
OR
Fill in the registration pack and return by post
OR
Call Nectar on 0844 811 0 811
If a card is lost, log on to the online Nectar account at nectar.com/my-account.points or call the Nectar helpline on 0844 811 0 811 to request a new card. It is possible to transfer lost points to a new card if the original card was registered
Combining Cards – It is possible to add someone as an additional cardholder so they can spend and earn points too, which will show up on the primary Nectar card statement