FreePostCodeLottery – I've entered, have you?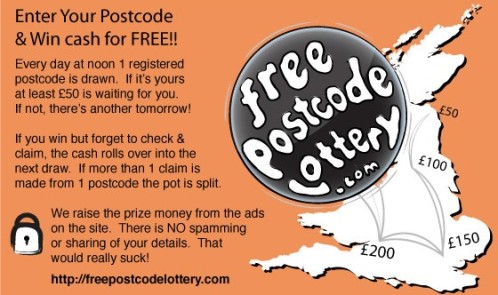 You've heard of the People's Postcode Lottery, where you pay monthly in advance to enter, with five draws a month and prizes every day. Well lookey here at what I've found, a free to enter postcode lottery. I've entered, so fingers crossed, now will you? Here's all the information you'll need to decide.
FreePostcodeLottery.com is an online daily cash prize draw.  It is completely free to enter your postcode and, once you have done so, it is entered into the draw every day at noon.  If your postcode is drawn you have until the next draw (24 hours) to check the site and claim the cash pot before it rolls over and goes to the next winning postcode.
How much can I win?
The daily pot is now £50.  If unclaimed it rolls over to £100, £150, etc.  The highest win ever was £320 back when the daily prize pot was £40 per day.  There is also a loyalty system where users build up a "bonus" the more they visit the site, and the more friends they refer.  Winners' bonuses are added to their winnings.  Also, there is an evening "£10 Mini Draw" from 6pm to midnight.  This is highly secretive though, so you'll have to look around the site to find it…
What if I enter the same postcode as someone else?
If both of you remember to claim you split the pot.  However, the more entries a postcode has the more likely it is to be picked.  Imagine they are being put in a hat.  If a postcode is put into the hat twice the likelihood that it will be picked is doubled.  Three times and it is tripled.  And so on.
How can they give away money for free?
The prize pot and running of the website are 100% funded by advertising revenue.  When you visit the site to see if you have won you will see adverts.  This generates revenue which is put into the daily prize pot.  The more visitors, the more revenue, and the more there is to give away.  It sounds strange that a website can give away money for nothing, but free newspapers and TV channels have been doing it for decades thanks to advertising revenue.
Does this mean I will get spammed?
Absolutely not.  There is an optional daily reminder email to help you remember to check the day's results.  No other emails are sent.  The site only collects your email address (to identify you) and your postcode (to go into the draw), and that's it.  These details are never shared with anyone.  Many sites make money by collecting as much personal information as possible and selling it on to "trusted partners".  FreePostcodeLottery.com is completely different.  Our money comes from traffic visiting the website and nothing else.  That's why you only need to enter your email and postcode, there is simply no need to give me any more information.  It is effectively anonymous.
Who's behind this?
Chris Holbrook devised it, designed it, built it, and runs it.  There has never been anyone else involved.  He is a freelance web developer so it was possible for him to get the site running without needing help from anyone else.  Of course, the site was a lot more simple at the beginning, but he's been developing and tweaking it over the last three years since it started.
What is the plan for the future?
The plan for FreePostcodeLottery.com is the same as it was on day 1.  More users, more revenue, higher prizes.  They currently have 5% of the UK's postcodes entered and are giving away £50 per day.  Chris isn't planning to stop until they have 100% of postcodes entered and are giving away hundreds, if not thousands, of pounds a day.