How to entertain children at your wedding on a tight budget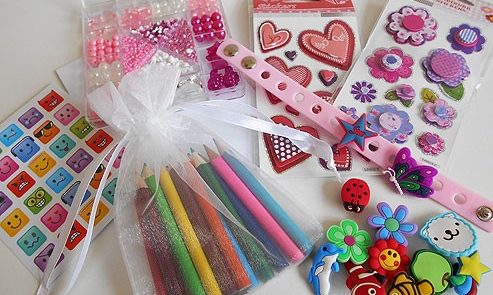 We all know weddings are a pricey affair, and hiring expensive entertainers or sitters are not viable options when you're on a tight budget. Here are 5 of my favourite ways that brides and grooms can have children at their special day without it costing the world.
1. DIY these simple games
Don't buy games, make them! Here are some handy instructions and a free PDF template for Fill in the Blank. These free printable games like word searches, I Spy, and colouring are amazing for keeping the little ones quiet during the reception. Simply print, provide crayons and they'll be entertained for hours.
More free printables:
• Gorgeous DIY booklet by Lovely Indeed
• Wed-Libs by Something Turquoise
• Wedding Activity Book by Mockeri
• Wedding Printables by The Pretty Blog
2. Wedding Busy Bags, does what it says on the tin
I love these busy bags from All About Party Bags which only cost from £1.60 per child. They're clean, quiet and perfect for individual play. These little bags are amazing for keeping kids quiet as speeches roll on, and dinners comes out.
3. Embrace the great outdoors
Summer is the dream wedding season for a good reason. In my opinion, there's nothing better than a glorious sunny day to celebrate a marriage, and a venue with a great outdoor space is amazing for entertaining kids. Set up a few lawn games like ring toss or giant jenga and let them entertain themselves. Of course, these can be used on a nice autumn and spring day too, or even a winter wedding, but you'll need a spacious venue that would allow this.  Games like this can be bought cheaply on wedding recycling sites, like Sell my Wedding or Bride 2 Bride and resold there afterwards.
4. Need Hours of Entertainment? Try a photo booth
Kids love dressing up, so what better than a photo booth? This won't just go down a treat with the kids, the adults will love it too – trust me. You can print off your own props to keep costs down, though in reality most booths come with props.
5. Put your dancing shoes on
Ceremony, dinner and speeches out the way – it's time to dance! By the evening, the kids will be pumped up on sugar so dancing is perfect to wear them out before home time. Simply ask your DJ to throw in a few of their favourites like Let it Go and Happy.
Do you have any more low- or no-cost ways to entertain kids at a wedding?