5 ways to make cash from your attic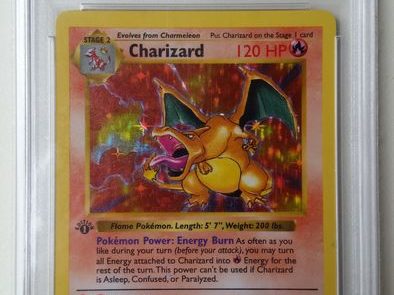 It's the first day of spring! So why not get those things that you haven't used from your attic or cupboards and get them sold? I asked Mark Borgman, Marketing Manager at Catawiki, an online auction service, to come up with five tips to make cash from items that may be lying around and gethering dust, wehreas they could be making you money.
Instead of clearing out your wardrobe or cashing in on your old mobile phone, why not take a look in your attic instead? There could be a plethora of items gathering dust in the loft that you had no idea might bring in some serious bang for your buck! Forget expensive wall art or antiques, your old Pokémon cards, comics or stamps just might make you a millionaire (or earn you at least a few hundred pounds).
POKÉMON CARDS
In the past year, Pokémon Go has taken over the world. But were you one of the kids trading Pokémon cards on the playground twenty years ago? If you kept your collection, you could be in with a chance to make some big bucks! Rare cards are incredibly popular amongst collectors, so that shiny Charizard that's been gathering dust in the attic for the past two decades could be worth the cost of a lavish weekend away. In fact, just last year an incredibly rare Shadowless Charizard card sold for nearly £400 on online auction website Catawiki.
VINTAGE WATCHES
Have you been passed down a watch by a grandparent or an older family member? You could be in luck, as the market for buyers of vintage and pre-owned watches is rapidly growing. If you inherit a watch that's been passed down through one or more generations, you may wish to wear it but perhaps it's simply not your style. If you're not already a watch enthusiast or collector, you might not recognise the name of its manufacturer let alone understand how much it is worth. And just because you don't see a name like Rolex, Omega, or Patek Philippe on it doesn't mean you haven't hit the jackpot. The vintage watch collecting market is now hotter than it's ever been, and a lot of lesser-known brands – Universal Geneve, Enicar, and even vintage Movado watches – are attracting plenty of buyers.
COMICS
Not every comic is going to sell for a good price, but those in a good condition, from well-known European artists like Hergé (Tintin), Giraud/Moebius (Blueberry/Silver Surfer) and Uderzo (Astérix) are very popular amongst collectors. Books by Hergé, the creator of Tintin and Snowy are popular in the UK. He's considered to be the founding father of today's European comic as we know it. Tintin, his famous character, had his first appearance in 1929 and comics featuring him are highly sought after. A rare first edition of 'Tintin au pays des soviets' from 1930, recently sold for £30,000 on Catawiki.
STAMPS AND COINS
Believe it or not, stamp and coin collecting remains a popular and profitable activity even in 2017! Everyone from the Rolling Stones' Ronnie Wood, to Maria Sharapova and the Queen are known for collecting stamps. Selling stamps can be a real money spinner, especially if the ones you are selling are part, or even complete, a specific collection. Examples of thematic collections include royalty, where stamps mark births, marriages and deaths of members of a royal family, a certain period in time, or personal interests such as sports, animals or aeroplanes. If you happen to be in possession of special stamps, such as those released by the Royal Mail to commemorate the 2012 London Olympics or the Royal Wedding of Prince William and Princess Kate, you could be in to make a good profit.
Similarly to stamp collecting, coin collecting has endured as a popular hobby into the 21st century. But even if you're not a collector, you may have an old box of change stashed away somewhere. Whilst it's incredibly rare, a 2p coin sold for £1,400 last year because it was silver, instead of copper.
VINYLS
The tables are turning for records with sales of vinyl overtaking digital downloads for the first time since the latter was launched. Vinyl sales for the first week of December last year hit a new high at £2.5 million compared with the £2.1 million for digital, according to the International Federation of the Phonographic Industry. The growing demand for records has also provided a lift for the collectable market, with discs that once sold for a few pence in charity shops and car boot sales changing hands for several hundred pounds – while the rarest examples sell for thousands, so take a look in your attic for any old records from previous generations! The most valuable records are not necessarily those that are the most popular – it is rare early pressings that are most sought after. One of the most valuable records is The Quarrymen – a 1958 band that included Paul McCartney, John Lennon and George Harrison before they became The Beatles a couple of years later. It is valued at £200,000 by Record Collector and includes the song That'll Be The Day.