Senior railcard for £26.50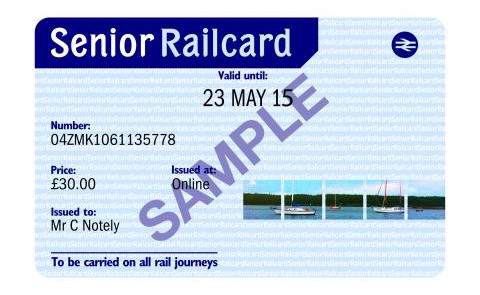 There are many advantages to being older, and one of these is the fantastic discounts available to pensioners. Aside from a free bus pass, it is also possible to invest in a Railcard, which will present large savings to those travelling by train. Not only this, but we have partnered with Senior Railcard in order to provide our customers with a further 15% discount on the cost of the railcard itself.
The fab folks at Age Mobility, the firm that offers stairlifts, chairs and aids for baths and showers, let me know about this great offer.
A rail card gives 1/3 off rail fares and with this discount, holders get to save more of their pensions or maybe you do if you are giving it as a gift for the older people in your lives. The discounted cost of the Senior Railcard is just £26.50, which means that after just a couple of trips, your card will have paid for itself. This could potentially save you an average of £114 over the course of the year. The Senior Railcard can be bought following your 60th birthday and will also provide you with a number of added benefits, such as savings with Railcard's partners. These include days out, museum entry, hotel stays and much more, which will be extremely useful during city breaks and holidays.
3-year railcards are also available, meaning you can get even more for your money. Those planning to do a lot of travelling over the next three years can purchase a Railcard for just £70, which will give you a saving of £20 on the price of three 1-year Railcards instantly.
How do you get this discount?
Senior Railcard has put together a discount especially for Age UK Mobility customers. To activate, all you need to do is follow these simple steps: Head to the Senior Railcard website or call 0345 3000 250 and use promo code 'AGEUK15'* when prompted, in order to receive a 15% discount when you purchase a 1-Year Senior Railcard!
*Note, 'AGEUK15' promo code expires at 23:59, 31st December 2015.