Comparison site for European rail, coach and air travel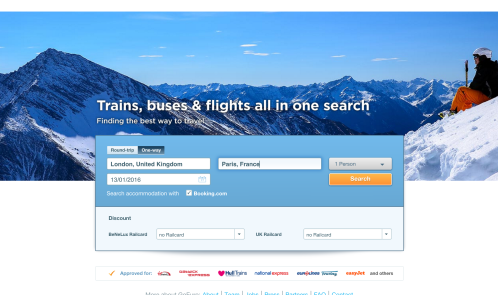 Saving money while you travel. That is music to everyone's ears. I was recently introduced to GoEuro.co.uk, a travel website (and app) that compares coach, rail and air travel across 11 countries in Europe.
The smart algorithm behind GoEuro will churn out results that range from the cheapest ticket prices to the smartest or fastest travel times, and offer you all the available modes of transport whilst taking into account waiting times at airports.
Naren Shaam, the founder of GoEuro, started the company three years ago, and since then has been steadily adding providers, new locations and countries to the GoEuro database in order to build a comprehensive search engine. He came up with the idea of GoEuro when navigating his way around Europe that "ground transportation in Europe is superior to the rest of the world, with rail and coach both being very convenient." He realised during a backpacking experience that despite the superb infrastructure available the whole procedure of reserving transportation can be a confusing if you do not know where to look.
That got me thinking, I really don't know which coach providers to search for in France, or that I can get from Berlin to Hanover for £4 by coach – a journey that is roughly only one hour longer than the train, which costs around £22.
Let's look at this worked example. If you are travelling from Cambridge to Edinburgh tomorrow (Wednesday 23rd March) and you were looking for affordability over time savings, the cheapest mode of transport would be to catch a coach for £43 a ticket. However, the site does show that to catch a train to Stansted then a flight, for £59, travellers would save both on time and money. If flying and time is a factor in travel, train tickets are currently £66 and will take just under an hour longer than getting to and flyin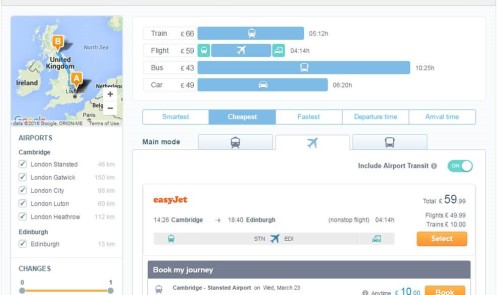 g from Stansted.
At the moment, GoEuro is best used for intercity ground travel, however the company does plan on expanding its service to include even more international travel by train and coach to anywhere in Europe, so you do not have to resign yourself to squeezing into a small seat on a plane or if want to save a bit of money on your next holiday, you can do so easily.
GoEuro currently operates across 11 countries across Europe providing travel times and costs for over 40 railway companies, 300 coach operators and airlines from around the world. It also services over 30,000 unique destinations across Europe.