Supermarket vegetable price drop madness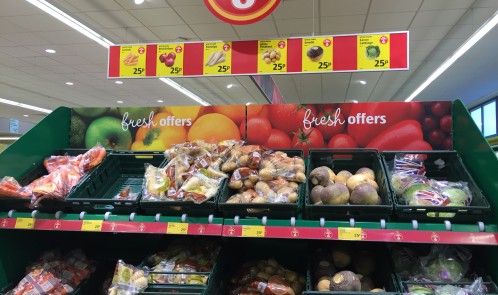 The best news for us veggie lovers is a 2.5 kg bag of potatos for 25 p, or do you fancy a brocolli for 28 p? Supermarkets are always conducting price wars, and these vegetable price cuts are definitely making me a happy bunny.
As you may know, I am loyal to no supermarket. I shop at M&S (don't think I've had one bad thing from there ever!), Sainsbury's, Tesco, Co-op, Morrisons and Aldi. Basically, I try to steer away from Waitrose as those prices scare me just a little bit…I had to do without brocolli the last and only time I did a weekly shop there, as it was £2…gulp. I don't mind paying for quality, but there's a limit.
Anyway, the Aldis and the Lidls are basically making larger supermarkets a bit hot around the collar and having to rethink their pricing strategies. I have written a lot about this, and believe that the popularity of the German discounters will only grow, and their market share in figures backs this up. Last November, Aldi already had a 5.6% market share, and that beat Waitrose at 5.2%.
I digress…back to the fresh stuff. The super six has been a regular at Aldi for a while, they put together six fruit and/or veggies per week and offer them at a discount price, and that price has been getting lower! This week they have parsnips, red onions, carrots, cabbage, swede and potatoes for the phenomenal price of 25p.
With low income families struggling to eat fresh, this is just brilliant. It's also brilliant for all families who want to eat more fresh veg. And if you can't get to an Aldi, there is no need to dispair, Morrisons have got a similar offer on and the items are 28p, and Asda is offer discount products for 29p.
Of course, the shops want you in there to spend more, but you have no obligation too…u can stock up on the veg and head to Waitrose if you must. Yesterday, I did an Aldi shop for four of us, including some posh stuff like a duck, Easter eggs, their fancy Specially Selected pizzas, quiches and more…for £80, so I just stayed there.