Online grocery shopping experience – Morrisons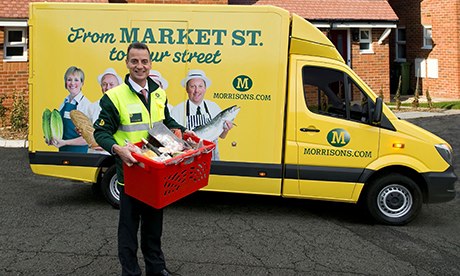 I've been a bit unwell since December and have had to resort to online shopping. I have used Tesco for a while and thought that as Morrisons came out top in my latest online grocery shopping comparison (on paper), I had better try it out in person. Here are the good and bad points:
Good things about shopping at Morrisons online
1. I seemed to get more value for money
My shop was 75 items and cost just over £100, whereas 74 items from Tesco were £173 just before Xmas with lots of vouchers. I know that I haven't done a like for like comparison, but I pretty much buy the same things every week, so the shop was cheaper.
2. There were lots of discounted products clearly visible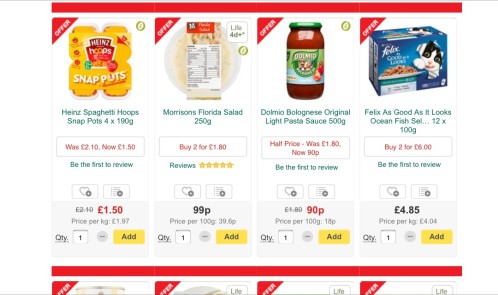 Right up front on the site, there was an opportunity to see all discounted products…basically I did my main shop from this section really. It was like walking into a supermarket and starting off in the bargain aisle. This probably explains my discounted trolley.
3. I could see my basket clearly
I liked the fact that when I reviewed my basket mid-shop, there were pictures of all my items…so much better than looking at a written list.
4. Could change order till really late
My order was on schedule for 8 pm and I could change it till 01.10 am on the same day.
Bad things about shopping at Morrisons online
1. One voucher only
I had a voucher for free delivery and money off, but could only put one in.
2. Match & More not linked
I tried to put in my number, but I was asked to register. I had picked up a temporary card in store and thought that I would be registered by now as that was early November. When I queried this with customer service online, they told me to re-register, I told them I already had, and after that I have had no further response from them.
3. Delivery driver arrived early
Would you believe it…20 minutes early. What would have happened if I wasn't in?
4. Delivery driver not up to Tesco standard
He got mud on my mat…most drivers wait to be invited in and I'll tell them where to go with their boots! He also didn't offer to help me carry the shopping in. Luckily Master BH was there and so I got him to help me.
5. I doubled up on a few things on my order
I had obviously pressed a couple of buttons once too often, but haven't ever done that with Tesco, so ordering on my phone led me to make a few errors.
6. Couldn't see an option to have no bags
Shopping came in big plastic bags and I really couldn't see an option to have it delivered with no bags.
In summary, a few teething problems, but for the savings, I would try Morrisons again.