Mrs Bargain checks out MandMdirect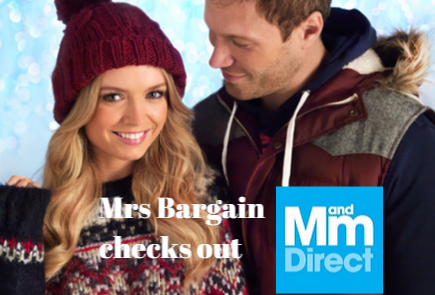 Mandmdirect.com is "one of Europe's leading online, off price retailers", but still one of the web's biggest secrets – just check out the brands and deals on offer and it may become your best fashion and sports secret too.
Upon reading the above information, I went and did a bit of digging and here is some useful things you should know about this retailer:
What discounts can I expect at MANDMDIRECT.COM?
MandMDirect.com gives you up to 75% off big brands, 365 days a year. Check the site regularly to make sure you don't miss out on the biggest brands at the lowest prices.
Tell me about the MANDMDIRECT story.
Founders Mark Ellis and Martin Churchward (the 'two Ms') joined forces in 1987 to sell end of line clearance sports products.
MandMDirect is now one of Europe's leading online, off price retailer offering global brands at the lowest prices.
Why is MANDMDIRECT unique in the market?
MandMDirect.com seems to offer low prices from your favourite brands, so MandMDirect could become somewhere to visit regularly to save your pennies.
Does the retailer ever have additional offers?
As well as offering up to 75% off items already, MandMDirect.com sometimes have additional offers throughout the year – there is always great deals to be had.
Is the clothing on trend for the season?
There is a huge range of products on the website so there is something for everyone. Whether you are after the latest trainers or the must-have dresses of the season, you'll probably find something you'll like.
Does MANDMDIRECT offer free delivery?
MandMDirect.com is currently offering free delivery over £50 using code FD14. This could be subject to change throughout the year.
What are the price points for the site?
The price points vary widely throughout the site due to the wide variety of products. However, the retailer says that "you can be sure that you will be getting excellent discounts on your favourite brands and products, up to 75%."
Who are fans of MANDMDIRECT site?
Anyone who is after a good deal is a fan of MandMDirect.com. If you are looking for a great saving and are money savvy then the store is for you. Gaining up to 75% off the biggest brands, anyone after sportswear and fashion should head to MandMDirect.