Iceland goes up market with posh nosh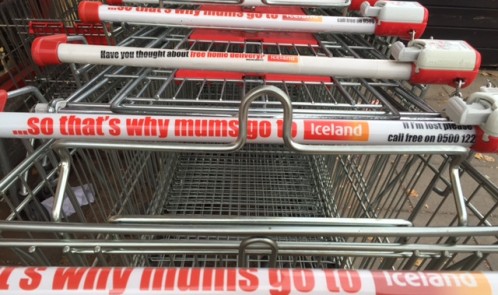 Today I had something of a revelation – in Iceland! I had been given a tip off that the frozen food store had some exciting new products in…at a very reasonable price.
Last time I'd been in was when the new Slimming World range was in store. I now see that they have added more new dishes, so I guess that they are successful.
Anyway, I wandered around the store and saw the usuals, pizza, fish fingers and chips…but it looks like Iceland is getting adventurous….what with rabbit and kangaroo meat available….and lobster.
You can buy a whole Canadian lobster for the grand price of £4.99. Yes that is correct. Now the crustacean will definitely impress, but I recommend that you practice on one before serving it up on a dinner date, as we could have got a lot more meat out of it, if we knew how to open the lobster!!! Basically you defrost it – overnight in the fridge or four hours at room temperature, et voila. Enjoy with some mayonnaise and lemon. We couldn't believe it. We never have lobster apart from on holiday near lobster fishing areas…as it is so expensive, so this is a mega treat and even the kids enjoyed it.
Forget the frozen peas, Iceland offers a range of adventurous veggies, combined with either Quinoa (pronounced keen-wah), bulgar wheat or cous cous. I tried the zesty bean quinoa and the bulgar wheat in lemon and mint dressing. I stir fried them both (see [oix below) and had with chicken. Firstly they look great and so healthy.  I loved the bulgar wheat one best as the flavours were strong. It was great to have kidney beans and chick peas, and other foods that I wouldn't have the time to put together. And again, as a bargain hunter I was very, very impressed by the price. £1.99 for a bag. Two bags were enough sides for five of us, and another portion left over.
Finally to finish our Iceland treat, we tried their chocolate and lemon soufflés. They come in ramekins, rather like Gu desserts. They need to be cooked in an oven and again look and taste great. The chocolate ones with some ice cream were a perfect end to our Iceland dinner. At £1.99 for two, they were half the price of my favorites Gu pots.
I think if you are looking for something different, tastes and looks good at a great price, there are definitely some hidden gems at Iceland. I will be going back.