Best grocery supermarket Click and Collect Service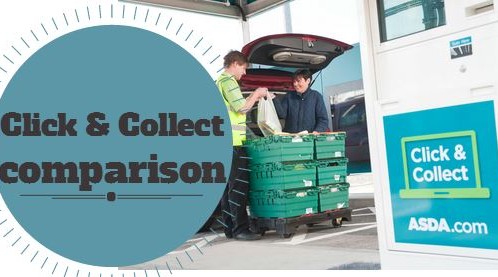 Which grocers has the handiest Click & Collect service? I did some investigating and here's what I found.
I'm very busy and out a lot this week, but am hosting a party so need to pick up food. While, I am excited to think that soon we'll be able to pick up lots of items from a corner shop, or a nearby locker rather than having to schlep to a supermarket, I've investigated which grocer would accommodate me the best this week with its Click and Collect service….. here are the findings of my comparison:
Price
Asda, Tesco, Waitrose and  Sainsbury's* all offer free click and collect services.
Charges can apply for tube station pick ups though, for example, £1.50 for Asda.
* Sainsbury's does not offer Click and Collect for groceries :-(.
Minimum spend
Asda requires you to spend £25 for pick up at store, or £15 for tube pick up.
Sainbury's service is available on orders over £15.
Tesco Click & Collect is free when you spend £25 or more. A minimum basket charge of £4 will be added to your order if you spend less than £25.
Waitrose – minimum order value of £50 applies.
Locations
When ordering a collection, simply put in your postcode to find your nearest store.
Last year Asda piloted collections from London tube stations, and in January, Waitrose and Tesco followed suit, and Sainsbury's will roll out their service this summer. Basically, for tube pick ups, your groceries will be held in a refrigerated van or a special lock up ready for you to pick up on your way home.
Asda offers Click & Collect at 400 stores and the same day service at 250 of those stores. Asda also offers a Drive Thru Click & Collect Service, so no need to venture far from your car.
Sainsbury's – 900 stores involved.
Tesco offers Click & Collect groceries in over 250 locations, but a lot more offer Tesco Direct and clothing.
Waitrose – couldn't find the number.
Timings
Asda offers Same Day Click and Collect in selected stores. Otherwise, order by 5 pm for collection from 5 pm the next day from Sunday to Friday, or order by 1 pm Saturday and collect on Sunday after 1 pm.
For Sainsbury's, it takes between 3-5 working days of placing your order and they'll keep your item in store for 14 days.
When trying a dummy order for Tesco, I had the choice of picking up groceries from 8 am the next day.
Finally with Waitrose, I could collect from 9 am the next day.
Products that can be collected
Asda offers groceries, George and Asda direct on Click and Collect.
Sainsbury's offers selected non food General Merchandise products.
Tesco offers Click & Collect groceries in over 250 locations, 1700 stores offer Tesco Direct products and clothing items can be pre-ordered and collected from over 850 stores.
Waitrose offers groceries for Click & Collect.
Other stores
Morrisons and Co-op don't offer Click & Collect for groceries…yet.
After my recent visit to Asda, I would use their service over Tescos and was disappointed that Morrisons nor Sainsbury's offer grocery click and collect as they are my closest supermarkets. Let me know what you think of Click & Collect services in the comments below.