Father's Day gift from Aldi Special Buys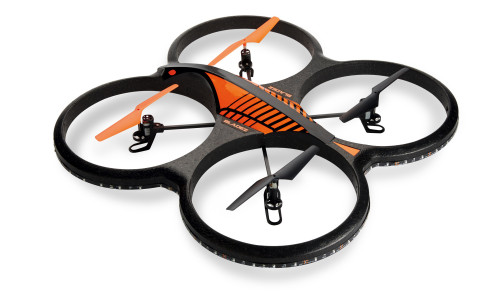 With Father's Day around the corner, the new Aldi Specialbuys Father's Day range, on sale both online is in store from 9th June.
Gadget lovers can take to the skies with this premium Drone Camera (£69.99) which includes a HD camera for photos and video recording and can be flown both indoors and outdoors to capture moments on the move. With 360° flip capabilities, dads can enjoy hours of fun testing their flight s
kills with the added bonus of being able to record their progress.
Extreme-sport lovers will appreciate nothing more this Father's Day than this Action Camcorder (£29.99) featuring a HD camera which can snap and record high quality shots even in the most extreme conditions. Ideal for everything from off-road cycling to extreme skiing, the camcorder comes equipped with a bike bracket, multifunction clip, helmet seat and all the bells and whistles any extreme adventurer could ask for.
Take dad on a trip down memory la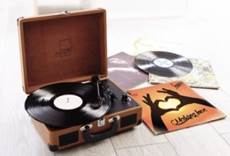 ne with a Vintage Suitcase Turntable (£29.99). Designed for easy portability and with dynamic built-in radio speakers to give music-fanatic fathers a chance to dig out their vinyl records and experience a nostalgic blast from the past.
Music lovers will also enjoy a traditional 1950's Jukebox. A Bluetooth Jukebox (£49.99) pairs sound with retro styling, so the whole family can enjoy timeless classics wirelessly from a smartphone or tablet.
DIY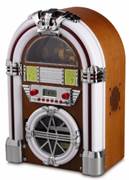 aficionados will love the Workzone Titanium+ 10.8V LI-ION Cordless Tool Kit (£69.99) which is powerful enough to complete even the toughest jobs on site or around the house. This quality kit includes a 10.8V Li-Ion Drill Driver with a soft grip handle, 10.8V Reciprocating Saw with a quick saw blade change system and LED Torch.
Aldi's premium Leather Washbag (£12.99) is 100% real leather and comes with a handy inner compartment to store dad's grooming essentials. What's more, this quality Electric Shaver (£17.99) ensures maximum comfort for both wet and dry shaves with the triple cutting system.
Aldi's range of Wooden Games (£6.99), including a Wooden Table Football and Wooden Darts will keep dads entertained for hours. For classic car fanatics, these Vehicle Construction Sets (£2.99) come with plywood kits, available in four vintage designs.
From Leather Golf Shoes (£19.99) to Premium Golf Balls (£9.99), dads can tee off in style, with great-value Golf Gift Accessories (£4.29) including sports balls, foam balls and castle tees to set him up for a perfect game.
Spoiling dad this Father's Day doesn't need to break the bank with affordable gifts ranging from this quality Gent's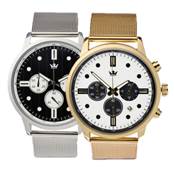 Chronograph Watch (£14.99) to these great-value Luxury Bluetooth Headphones (£19.99).
It wouldn't be Father's Day without traditional treats such as Aldi's Men's Classic Slippers (£4.49), Men's Loungewear (£7.99) or Father's Day Novelty Socks 4pk (£4.99). With a wide variety of quality gifts and Father's Day Square Cards and Bags (starting from £0.79) to go with them, Aldi is the one-stop-shop to for quality presents to suit every personality type!
Aldi's Specialbuys Father's Day range is available in stores nationwide and online at www.aldi.co.uk from 9th June and, as with all Specialbuys, once it's gone it's gone!
–
Gift ideas for father's day
10.8v Li-Ion Cordless Tool Kit
£69.99
Drone Camera
£69.99
Bluetooth Jukebox
£49.99
Vintage Suitcase Turntable
£29.99
Action Camcorder
£29.99
Luxury Bluetooth Headphones
£19.99
Men's Leather Golf Shoes
£19.99
Electric Shaver
£17.99
Hair Clipper
£14.99
Gent's Chronograph Watch
£14.99
Leather Washbag
£12.99
Muc-off Bike Cleaning Kit
£10.99
Premium Golf Balls
£9.99
Men's Loungewear
£7.99
Men's Luxury Pique Polo Shirt
£7.99
Men's Bermuda Shorts
£6.99
Wooden Games
£6.99
3 Piece Folding Hex Key
£4.99
Phonebox Bird Feeders
£4.99
Men's/Ladies' Premium Leather Belts
£4.99
Men's Classic Slippers
£4.49
Retro Wooden Boxes
£3.99
Golf Gift Accessories
£4.29
Father's Day Mugs/Glasses
£3.99
Father's Day Novelty Socks 4pk
£4.99
Men's 5pk Novelty Socks
£3.99
Vehicle Construction Sets
£2.99
Father's Day Large Cards/Bags
£1.29
Father's Day Square Cards/Bags
£0.79