Ever heard of Secretsales? Designer flash sales site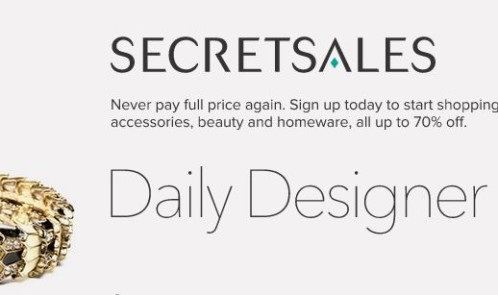 While I am not desperate to wear designer all the time, I do like to buy some items that have recognisable name brands, such as Chanel, Radley, Berghaus, Northface and Birkenstock.
They all have high quality and high price associated with them, so I decided to do some digging into designer flash sales sites where branded items are sold for a fraction of their RRP and found Secret Sales.
I asked them some questions and this is what I got in response in my interview with the store:
secretsales.com is a flash sales website and selling good quality clothing, accessories, cosmetics, lingerie, homeware and much more. With everything from the latest must have clutch bag from Alexander McQueen through to an iconic fragrance at Burberry or the softest suede shoes from Tod's, there is something for every shopper out there.
2 – How does it stand out from its competitors?
The online retailer has new sales taking place six times a day and members being offered up to 70% off top designer goods.
3 – How many brands are on the site?
secretsales.com currently hosts over 600 brands ranging from high-street to high-end.
4 – How do the sales work? How do I find out about the sales? Can I customise my preferences so that I only get relevant offers?
Emails are sent out to customers twice a day and are tailored to their specific tastes, making sure that the brands they want are delivered directly to their inbox. The site recognises sales you have visited most and then keeps you updated with brands they know you will love.
5 – What sort of discounts can I expect? Are your items this season's stock?
You can expect up to 70% off of items on the site, which are always brand new unless stated as vintage. They are generally sold from the current or previous season.
 6 – Are the brands you sell well known in the UK? Are any of them  Secret Sales' own brand items?
All brands stocked on secretsales.com are well known and include everything from French Connection and Clarins through to Villeroy & Boch and Gucci. It does not currently have its own branded items, but instead hosts 600 coveted labels that they know customers love.
7 – What sales are currently live?
There are a huge range of amazing sales currently live including Tommy Hilfiger, Almost Famous, Charnos and Sperry. On 15th July they will also be hosting 'Diesel Day' which will see everything from men's, women's, kids, jeans, accessories and jewellery on sale at up to 70% off.  It is a big day, as it is themed towards Diesel and therefore these are the sales they will be focusing on that day. They will run from 15th for 4 days.
8 – Does the site have a large fan base?
secretsales.com currently has over three million members, with number increasing each and every day.
9 – What is the delivery cost?
Delivery charges may vary according to the number of sales that orders are purchased from. On average, a single delivery charge is £4.95 per sale. Should orders be placed from two sales, this cost would increase to £5.95, with three or more sales at £6.95.
If a single item priced at £500 or more is purchased, this will carry a delivery charge of £9.95 due to the high cost of fulfilling these goods. If additional items are ordered from the same sale there will be no extra costs.
For those frequent buyers, a one-off payment of £30 will provide delivery on all orders for a year.
10 – What sort of delivery time am I looking at?
Due to great relationships with all of their suppliers, secretsales.com aims to deliver goods within five to ten working days.
 11 – When was secretsales.com founded and how has it grown?
secretsales.com was founded by brothers Nish and Sach Kukadia in 2007. The company has seen 80% growth in the last year and currently employs 100 members of staff. The site attracts 150,000 unique visitors every day and a product is sold every 10 seconds.
12 – How many sales have been made?
In December 2013, secretsales.com saw its one-millionth sale made.