Dispatches – The Secret of the Discount Stores – are they too good to be true?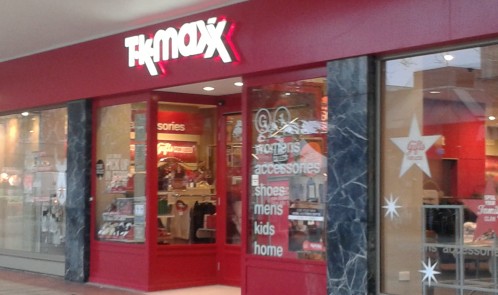 Tonight I watched the Channel 4 programme on discount stores called The Secrets of the Discount stores, and it was interesting viewing.
Here's my recap for those of you who may have missed it. Just to warn you, it did feel like a TK Maxx bashing exercise. As you may know, I am very fond of that store and will still be going there!
According to the programme, with the average Brit earning less than £450 a week and the recession biting, stores like TK Maxx are growing, with slogans such as Big Labels This Season, Always up to 60% less and this season's trend.
A typical TK MAxx store holds 50,000 items and the presenter, Harry Wallop, showed items like a Jean Paul Gaultier mac for £350 down from £2,680. He examined how TK Maxx gave such "jaw dropping prices", by highlighting the discount labels, which hold RRP and discounted price information. They showed some items where TK Maxx had apparently hiked up the RRP to make the discount look bigger.
The presenter set up his own bargain stall to see if consumers would be attracted by the discounts, and indeed when a lady heard that the price had been cut, she said that she was likely to buy.
We heard from a consumer psychologist who said that bargains trigger a chemical reaction in the brain, where he likened the feeling around getting a bargain to that of receiving a gift. Taking this into consideration, retailers know that the bigger the discount, the more we are likely to buy. He likened the experience to that of a treasure hunt, encouraging people to go in to find an amazing bargain and compete for products that are scarce.
The presenter then dug further into the up to 60% off claim at TK Maxx. He investigates brands that we may not have heard of. These are supposed to be big name labels including Arabella and Addison, Deane and White, Amphora and Refectory. He couldn't find the websites or brands or that they were sold anywhere else. It turns out that 150 brands sold by the store are all TJ X brand names, which are owned by TK Maxx. So they are own brand labels, and are mixed in with big brands.
Harry cited a Jobis handbag as an own brand but discounted item, so is TK Maxx setting its own RRP? Well in response to his query, they said it was a mistake.
Now to the current season claim. He took a current season Nicole Farhi jacket priced at £58 from £450. he visited a Nicole Farhi store in London and the manger at a store said that the jacket was not current label but two years old. TK Maxx said that this is a "Single instance error in labelling".
A previous designer employee of TK Maxx revealed that the retailer works with designers to create bespoke lines to fit their prices. When designing clothes, the designer gets a target price and looks at all ways to reduce prices, including cheaper fabric, production methods, simplifying patterns, reducing man hours, branding, embroidery vs printing and cheaper accessories. The ex TK Maxx employee said that Nicole Farhi and other brands produced bespoke items for the retailer.
There are of course alternatives to the high street for discount stores. Outlets and outlet villages attract shoppers with claims of past season stock at rock bottom prices. There are plenty of consumers looking for brand name quality at bargain prices. Harry took a look at Bicester village, with 130 boutiques and claims of the highest sales per square foot in the world!
There are definitely impressive bargains to be had, but some staff said that the products were made for outlets only. Harry's team asked over 100 boutiques, and over half said that they had stock that was made for outlets only, and these items are different to full retail stock. He looked at Michael Kors bags with different linings for outlet vs retail stock. Unless the customer asks, they probably wouldn't know which items are made and costed for the outlet stores.
This leads Harry to state that tags which show discount labels are citing false high RRP prices.
Now are we as consumers to blame? Do we care about labels? Would we pay more if it's got a great label on it? Apparently yes….the logo is worth the extra money.
So the conclusion – consumers need to shop smart, ask a few awkward questions and be sceptical, critical and quizzical.