Did you know about Clarks Outlet online?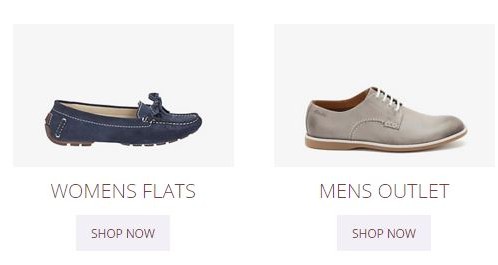 Just found out that there is a Clarks OUTLET online. I knew that they have these stores, but have only found one in Bicester Village and in Peckham, so forgot to look online.
The store only sells ladies and men's shoes and the majority are marked down at least 30%. I got in touch with the Clarks team, especially as I have bought from an outlet before and was not able to return the shoes to a normal store, and I am interested in discount children's shoes.
They told me that as the outlet website has recently launched, they took the decision not to stock childrens shoes at the moment. This is something, they will review in the future, however there is no timescale to when this may take place.
They confirmed that Clarks Outlet stock comprises of unsold items from previous sales and products manufactured specifically for the Clarks Outlet stores, including remakes of previous popular styles which are no longer available in high street stores.  In terms of pricing, it is based on a number of metrics including commercial considerations such as stock quantity and speed of sale.
Occasionally you will find the same styles available on the outlet website as the full price website. Should Clarks decide to carry a style through to the next season some of the previous seasons stock will go to the outlet stores or outlet website to sell. If this is the case the styles in their outlet stores/website will always be the same price as the full price stores/website.
The stock on the outlet website is fragmented and therefore replenished frequently. To find out about news and offers regarding Outlet Online please sign up to their newsletter. If you go to our homepage https://www.clarksoutlet.co.uk/ and scroll to the bottom of the page you will see where you can sign up.
A great final point is that they offer a free returns service with MyHermes you can either drop off at a parcel shop or arrange for a courier to collect.