Aldi now the UK's sixth-largest supermarket chain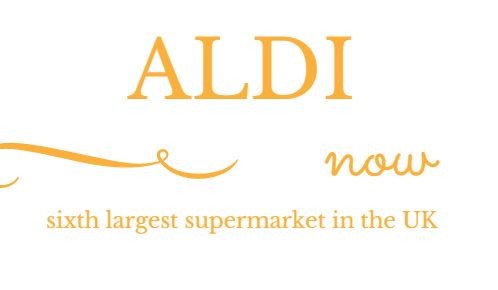 Aldi is now bigger than Waitrose to become the UK's sixth-largest supermarket chain by market share.
The German chain increased sales by 16.8% in the 12 weeks to 29 March, according to Kantar Worldpanel (consumer panel research firm). That figure took Aldi's share of the market up to 5.3%, compared with 5.1% for Waitrose.
Aldi is celebrating its 25th anniversary in the UK and has enjoyed rapid sales growth due to the recession, high-quality products and fab special buys (IMHO).
Aldi has confirmed plans to quadruple the number of its stores in London, with nine new outlets including a second trial of a convenience-style outlet in Tooting. The group has 560 stores in Britain and wants 1,000 by 2022.
Some commentators believe discounters could in future control as much as 20% of the UK market. In Germany, Aldi and Lidl account for almost 40% of food and grocery sales.
I along with others believe that both Aldi and Lidl chains will continue to gain share even as we are out of the recession, because frugal shopping habits are now the norm, whether you are middle-class wage earners or on a tight budget.
Supermarket sector by market share
Tesco 29.4%
Asda 17.1%
Sainsbury's 16.4%
Morrisons 10.9%
The Co-op 6.0%
Aldi 5.3%
Waitrose 5.1%
Lidl 3.7%