List of 10 designer outlets in the UK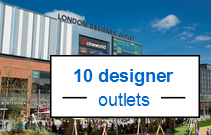 The words "fashion" and "frugal" don't always go hand in hand; sometimes, it can cost quite a bit to look good. However, for the savvy shopper, this doesn't have to be the case. If you're looking for deals on the latest and greatest styles, you may have to look no further than UK designer outlets.
Still, while many outlets are full of wonderful sales and bargains, they aren't all created equal; when it comes to helping you look your best, some simply beat the pants off others.
So, next time you're heading to the outlets, consider stopping by one of these outlets:
London Designer Outlet – Wembley, London
London Designer Outlet is the first outlet centre in the country's capital. It has 70 units of retail, 20 restaurants and coffee shops, and a brand new nine-screen Cineworld cinema complex seating 1,800 people. London Designer Outlet offers many of the most popular named brands marked down considerably. Shops include Nike, Clarks, M&S, Phase Eight and SuperDry. It also offers dozens of coffee shops and restaurants, all venues that allow you to rest so that you don't shop till you actually drop.
Bicester Village – Bicester, Oxfordshire
A personal favourite, just ten miles from Oxford, Bicester Village offers over 100 chic boutiques from which to shop. Everything is marked down at least 30 to 50 percent off normal prices.
Cheshire Oaks – Elmesmere Port, Cheshire
Cheshire Oaks offers a ton of variety with over 140 designer brands. It also offers discounts up to 60 percent off.
East Midlands – South Normanton, Derbyshire
Another village from the same people that bought us Cheshire Oaks, East Midlands prides itself on variety – it has over 70 stores, restaurants, and cafes – as well as discounts. All year round, shoppers can lavish in price reductions up to 70 percent off.
The Galleria – Hatfield
Just North of London, the Galleria offers both designer brands and household items with discounts up to 60 percent. It has high-end stores like Calvin Klein as well as mainstream stores like Superdrug and TJ Maxx. In case you're looking for something to entertain the kids, it also has a movie theater and an ice rink.
Ashford Designer Outlet – Ashford, Kent
Surrounded by areas of tranquil countryside, majestic villages, and blooming gardens, the Ashford Designer Outlet offers sights to behold both on and off the rack. It offers up to 60 percent off all year round on more than 80 high street names and designer brands.
Banbridge Village Outlet – Banbridge, Northern Ireland
Offering over 55 of the most popular retail brands, Banbridge has discounts of 30-70 percent in every store. Nike and NEXT clearance have presence there. It's a popular place for families due to its abundance of leisure activities.
Junction 32 Outlet Village – Castleford, West Yorkshire
Body Shop, Levi, Gap, Mango, and Nike are just a few shops at Junction 32. With up to sixty percent off and an outdoor children's area, this is a popular destination for shoppers with kids.
Lakeside Village – Doncaster, South Yorkshire
Lakeside Village offers more than 45 different stores at 60 percent discounts, including M&S Outlet, Ernest Jones and Lillywhites. Also good for children, it has an outdoor, covered playground and a soft play area for toddlers.
Dalton Park – County Durham
Located in Seaham, Durham, Dalton Park offers 50 percent discounts on branded products, including Radley, Berghaus and Levis; it also has lots to do. With a children's play area, parkland family trails, and an abundance of wildlife enjoying the wetlands, it makes shopping an adventure in more ways than one.