New kitten shopping list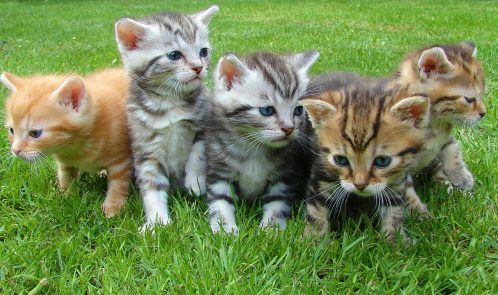 Just like when a baby comes home with you and there are things you need ready to make the arrival easier…cot, nappies, bedding etc, the same is true for bringing home your new kitten.
There are so many things to buy, you could spend hundreds, but I asked my friend who owns four cats for her advice. Using Amazon often means quick delivery and you can read the reviews too, making it easier to decide if you need them all straight away and whether others think it's a good buy. I have also added other retailers where I have seen an offer or think the product is worthy of a mention.
Scratch posts are a must
Cats scratch. There is nothing you can do to change that. The idea of declawing is abhorrent to me, so let them scratch. Some will go outdoors, but I have recommended not to let kitty out until it's neutered (that's what new owners want to do), so they will need scratch posts to protect carpets and sofas.  Depending on the space you have here are some options:
Floor-to-ceiling scratch post  by Deuba, includes hammocks, perches and hidey holes – https://amzn.to/2AJ4lmX and https://m.zooplus.co.uk/shop/cats/scratching_posts/ceiling_scratching_trees/36490
Regular scratch post – you can get standard ones, but we think this is the best as it last for ages and isn't too expensive and depending on your post code they'll do SAME DAY delivery – http://www.argos.co.uk/product/7235476
Corner – https://www.petplanet.co.uk/product.asp?dept_id=41&pf_id=62798&ptm
Sofa protector – https://www.petplanet.co.uk/product.asp?dept_id=41&pf_id=64272&ptm
This one from Aldi is very reasonably priced and offers your kitten a wee perch to sit on at the top, plus a toy at the bottom – https://www.aldi.co.uk/platform-cat-scratcher/p/084165219194300
A word of warning, delivery is super fast on these, so find out from your breeder which surface your kitten likes to scratch and which way the grain should go….otherwise you may end up with a vertical one it never uses.
Cat tree
Felines love to climb, and be high up so that they can observe their surroundings while feeling safe. Here are some exciting trees, just remember s/he won't be a kitten forever, so consider if the cat tree is just for a kitten or a cat could fit too. Reading reviews, they only last 2 – 3 years at best.
Finether Cat Tree Cat Tower Cat Tree Tower Cat Tree Furniture Cat Scratcher Cat Activity Centre Kitten Playhouse with Sisal Covered Scratching Posts Hammock Perches Platform and Dangling Ball Beige(55 cmW x 45 cmD x 154 cmH) https://amzn.to/2KyHHx4
PURLOVE® Large Cat Tree Cat Scratcher Activity Centre Scratching Post Climbing Tower Tree with Cat Toys Mouse (Beige, Type 1)Climbing-Scratcher-Furniture/dp/B071WNWD6S/
Ikaros Cat Tree  – this is the one she is buying – see image – discounted from £79.99 to £49.99 for now so act fast to save at Zooplus.
https://cattree.uk/product/house-paws-hessian-plush-cushion-grey/
Again this is hit and miss, as your cat may not like such a thing, but from most reviews they do seem to like them…so I wouldn't go super expensive.
Cat bed
Soft, cosy beds are a must, especially as cats spend a lot of time snoozing. When you see kittens they love snuggling together so if you only have one cat, think about the plush home. Some cats like to hide away, so an igloo is a nice alternative.
Plush – https://www.amazon.co.uk/Pecute-Plush-Washable-Removable-Cushion/dp/B01N1LQDLE/
Basic – https://www.amazon.co.uk/AmazonBasics-AMZRB-002-Round-Pet-Bed/dp/B07233P1W2/
Igloo – https://www.amazon.co.uk/Large-Luxury-Igloo-Comfy-House/dp/B01ATXGQAK/
Over radiator – https://www.amazon.co.uk/2xRadiator-Cat-Quality-Pet-Products/dp/B01MXK0Z2R/
Hooded, to give your new kitten some cover while s/he snoozes: https://www.aldi.co.uk/pet-collection-hooded-cat-bed/p/085922225981001
I would again wait to see how your kitten likes to sleep and buy after arrival as they are very fussy.
Automatic feeder
If you're not with the cat all the time, these are useful.
Basic – https://www.amazon.co.uk/Karlie-44046-Water-Dispenser-Litre/dp/B000OM1904/ and https://www.amazon.co.uk/Trixie-Automatic-Dispenser-Granite-Black/dp/B00106AP12/
Fancier – https://www.amazon.co.uk/Mate-Automatic-Pet-Feeder-Digital/dp/B01AUYLVU8/ and https://www.amazon.co.uk/dp/B0777K2TVK/
I like these Amazon basics food and water dispensers  – I can fill the the dispenser if I am away. Be warned these are big however so maybe not for a kitten.
Water fountain
Cats like running water as it does not have bacteria or bugs in it, so maybe try this instead of the usual water bowl next to where they eat to encourage them to stay hydrated:
Amazon favourite – Cat Mate Fresh Water Drinking Fountain for Cats and Small Dogs 
Pretty – https://www.amazon.co.uk/Catit-Original-Flower-Fountain-Litre/dp/B0146QXOB0/
LED – https://www.amazon.co.uk/Paramount-City-Automatic-Drinking-Fountain/dp/B01DTW0618/
Flea tablets/collar
Don't even think about not using flea protection. They will get in your clothes, furniture and more if you don't treat your cat. This is what I use. Crush one tablet up in some butter or Webbox lick-e-lix, which you can get from most supermarkets and also Amazon in bundles, means your kitten is far more likely to eat the tablet. I give my four one tablet every Saturday to ensure that any unhatched fleas that were not caught the previous Saturday are taken care of the following Saturday. Getting into a weekly routine means your kitten won't be bothered by itchy fleas.
https://www.amazon.co.uk/Johnsons-Veterinary-Products-Tablets-Kittens/dp/B002ALISWY/
You can also get treatment from the vet.
Cat food
Cats need to eat and are especially insistent about being treated regularly. My friend is going to use Go-Cat to start with as that's what the kitten is eating at the moment, but this is what my four like. I sometimes have to buy the bargain or basic if I've overspent that month, but these are loved by my cats. And, to ensure my four fur babies don't get used to only one type of food, which can be a disaster if you're unable to get that type for whatever reason, I alternate the brands so they are eating different types and flavours regularly, which means they stay open to trying new brands as and when I pick those up.
All-natural high end –  Country Hunter dry and wet food is really all natural and such a treat. No chemicals, additives or preservatives that are often found in over processed pet foods are used here.  This raw cat food and gently steamed cat pouches are made with naturally wholesome ingredients and prime real meat pieces that even the fussiest of cats will love.
Bargain – https://www.amazon.co.uk/Butchers-Classic-Fish-Chunks-Jelly/dp/B016IQ0ERS/
Basic – https://www.amazon.co.uk/Whiskas-Years-Poultry-Selection-Jelly/dp/B01H1R0RT8/ and https://www.amazon.co.uk/Felix-Adult-Mixed-Selection-40x100g/dp/B06XWSW4M9/
Mid-range – https://www.amazon.co.uk/Sheba-Pouches-Poultry-Collection-Jelly/dp/B0719GNY4W/
Treat – https://www.amazon.co.uk/Gourmet-Perle-Food-Chefs-Collection/dp/B01HXI9YS0/
Litter tray
Probably the most icky part of having a cat, but no need to fret
 as you can have self cleaning on a budget. If you want robotic ones, you're looking at £100+, so this is a compromise – Omega Paw self cleaning litter – comes in regular and large, but before you buy it look around at other retailers Petplanet and Zooplus will often have offers on!
Corner – https://www.amazon.co.uk/Corner-Cat-Litter-Covered-Charcoal/dp/B01CJOHERQ/
This is what my friend has for her four cats….it's hooded, with a useful carbon filter to stop any smells escaping – https://www.amazon.co.uk/Catit-Style-Hooded-Litter-Tray/dp/B001G0FHY2/
Cat litter
There is only one litter my friend recommends:
https://www.amazon.co.uk/Catsan-Hygiene-Cat-Litter-20/dp/B014PCXI5M/
However, I need a clumping litter, so have gone for Aldi's own brand…less than £2 for a bag that will last ages and it works well with litter tray. Other alternatives include:
https://www.amazon.co.uk/Ever-Clean-Strong-Clumping-Scented/dp/B00VTMVXYK/
https://www.amazon.co.uk/Litter-Clumping-Odor-Control-Powder/dp/B071CW9HN6/
My mate also highly recommended Felipure as it is scented to keep your home fresh even after kitten has gone to the toilet – https://www.felipure.com/
Cat climbing – for outdoors and inside
If you want high-quality, contemporary cat climbing frames for use both inside and outside the home, Catipilla offers some great products. These are particularly handy for anyone in an upstairs flat that has an outdoors kitten!
Cat toys
Cats need stimulation and these are my moggies' favourite toys. If you don't have a big budget, head to Poundland, they do stick and bird type toys and packs of three mice/bird type toys too. The Poundshop is also useful if you can't get to a Poundland. Or just get yourself a box and a paper shopping bag. Cut out holes in the box and there you go, hours of fun.
https://www.amazon.co.uk/ESHOO-Mobile-Activity-Playing-Blanket/dp/B01NH5LEFS/
https://www.amazon.co.uk/Yeowww-Cigar-filled-catnip-piece/dp/B00FG1LTZ8/
https://www.amazon.co.uk/YEOWWW-Cats-Balls-Cat-Pack/dp/B004P65LOA/
https://www.amazon.co.uk/BESTIM-INCUK-Feather-Teaser-Interactive/dp/B01FW1OSIG/
https://www.amazon.co.uk/Three-Layers-Toys-Intelligence-Crazy/dp/B00QK64QGC/
https://www.amazon.co.uk/CATTOYS-pack-balls-pressure-pillow/dp/B079NM17SF/
https://www.amazon.co.uk/ITP-128643-Kitten-Interactive-Scratching/dp/B01DLRGOSU/
https://www.amazon.co.uk/Catit-43151W-Senses-Food-Tree/dp/B00D3NI31Y/
https://www.amazon.co.uk/Extra-Long-185cm-Cat-Tunnel/dp/B01I4K9SKA/
Grooming and well-being
Cats shed, so giving them a comb regularly will keep their coats in better condition.
I have discovered Pet Angels brushes, which look gorgeous, and are unique in many ways:
Antibacterial – Special antibacterial additives embedded in the plastic make your brush ultra-hygienic and safe to use.  99.9% effective at reducing the growth of unwanted bacteria
Water Resistant – Ideal for use whilst bathing or washing your pet
Easy Clean – Simple tap the brush on a hard surface and watch the hair fall from the bristles
Anti Static – Anti-static properties leaves your pets coat smooth and silky
Gentle – The kind and gentle way to leave your pets' coat not only tangle-free, but also beautifully shiny
Adult versions – get yourself a matching set – I have this, sooooo cute
Other grooming ideas are:
https://www.amazon.co.uk/Catit-Play-Circuit-Massager-Blue/dp/B07DFHLR9B/
https://www.amazon.co.uk/Catit-50755A1-Senses-Grass-Garden/dp/B004G9W4DC/
https://www.amazon.co.uk/Double-Sided-Wooden-Grooming-Massage/dp/B00B7IMZ0W/
Kitten-proof vases and photo frames
It may be safer to just remove your vases if they are super precious to you, but museum putty is a good alternative. It's like bluetack and should withstand some kitty bashing.