New app for booking bargain holiday homes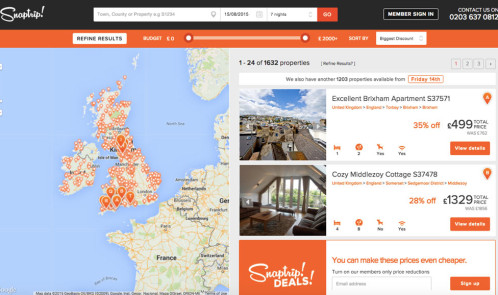 In the third of my last minute travel ideas for the summer holidays, I thought I'd take a look at holidays from a holiday home owner's point of view, and see how they can offer discounts direct to consumers.
If you own a holiday home, you'll surely hate to see it empty, particularly during the peak summer months. Many are more than happy to offer huge last minute discounts in order to fill up their calendar.
Snaptrip is a new marketplace that helps owners to offers discounts of up to 50% on the largest collection of self-catered properties in the UK. Which is great for spontaneous holidaymakers!
By partnering with both individual owners and some of the biggest property management agencies in the country, Snaptrip has made searching for your dream cottage a quick and painless process. Through the platform, it is possible to search and book all the available properties of dozens of self-catering rental companies across the country including as Cottages4you, Blue Chip Holidays and HolidayCottages.co.uk. This saves the holidaymaker hours of time by not having to compare al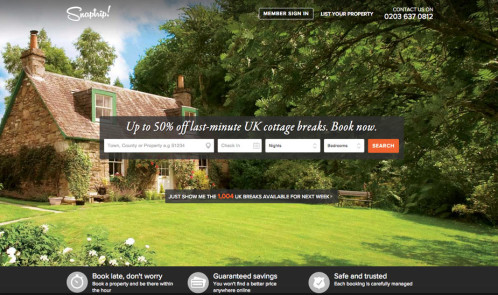 l the different agency websites individually.
With 35,000 properties listed on Snaptrip, even during the summer months it is possible to find a dream holiday home at the very last minute. Snaptrip also offers a unique membership option, whereby you are free to sign-up and receive exclusive further discounts and be the first to hear about any special deals, cancellations and promotions that are on offer.
When you arrive on Snaptrip.com, the process of choosing a cottage is incredibly simple. All you do is enter the dates that you are looking to travel and the area that you would like to visit. Click search and you will see a list of all the properties that are instantly bookable there and then. Snaptrip is committed to only showing you properties that are available to book for your chosen dates.
The prices that you see on the search results are always final (Snaptrip includes booking fees in the price displayed) so you won't face any extra charges. By displaying the price, four images of each property, its location on the map, the number of bedrooms, maximum occupancy, and whether the property is pet friendly, it is possible to quickly decide which properties you want to learn more about.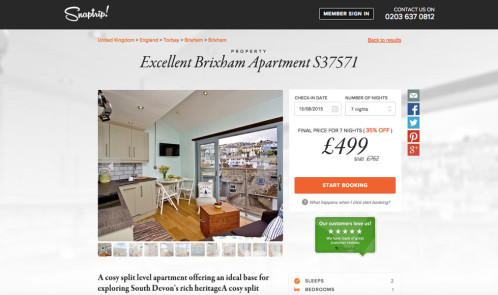 When you click through to a property, you are shown even more images, reviews of previous guests, a detailed description of the property and ideas about what you might like to do when you are in the area. .
Once you have decided to go ahead with a property that you would like to stay at, simply go through the two-step booking process. When you booking has been processed, a helpful member of Snaptrip's customer service team will give you a call to make confirm that you would like to go ahead before walking you through the efficient finalisation process.