Pricehawk launches to find cheapest consumer electronics products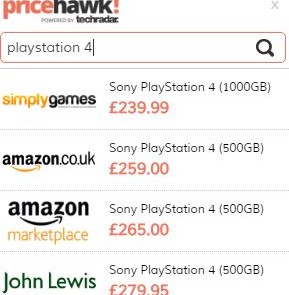 Techradar has launched a brand new smart shopping companion: Pricehawk! for consumer electronics price comparison.
From the makers of TechRadar, T3, Lifehacker and Gizmodo UK, Pricehawk! will automatically detect shopping links and let you know if you can get the same product for a cheaper price elsewhere.
It's in beta so the developers will want to improve it and need your feedback. Available as a free extension for your Google Chrome browser and it's designed to help you find the cheapest prices while you're shopping online.
Pricehawk! will also let you know if there are any voucher codes you can use on the stores you're browsing so you can save even more money.
And the developers didn't stop there… you can also search their database of over 250 million products to find the cheapest prices for the tech you want to buy. It's designed to be much quicker and easier than browsing all your favourite sites individually.
We are very excited to launch Pricehawk! beta and would love your help making it better.