New search engine for luxury holidays at bargain prices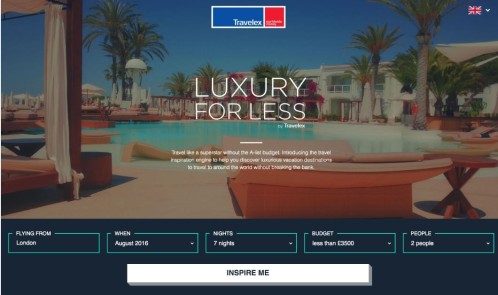 Today, Travelex launched travel inspiration search engine Luxury for Less – a one-stop-shop for luxurious holiday planning on a budget.
Luxury for Less combines flights and hotels pricing powered by global travel search engine Skyscanner, together with Travelex exchange rate figures and the average spend of past holiday goers to help users create a luxury holiday to suit their budget. It's the single source of information which does all the hard work for the holiday planner.
By factoring in the cost of everyday holiday spending items, such as wine, taxis and food, the travel inspiration search engine creates peace of mind by helping people to pre-plan their spending money requirements. Luxury for Less works by letting the holiday planner plug in their budget along with a few other essential factors to help them discover luxurious places to travel around the world without breaking the bank – perfect for the many suffering price-tag terror.
Once holiday planners choose their dream holiday, they can then book their flights, hotel and get their spending money all through Luxury for Less.
In a bid to understand what Brits consider a luxury holiday, Travelex surveyed 1,000 people to understand how they go about planning these big-ticket purchases and exactly what they want to get out of it. The research found Brits define a 'luxury holiday' as being switched off from internet and smartphone access (despite many having an everyday dependency on smartphones and the internet), costing around £2,000 per person and staying in 5 star accommodation at a beach destination such as the Maldives.
It seems Brits are stuck in 'price-tag terror' mode, with nearly two-thirds (60 %) admitting that budget is the first thing they consider when planning a holiday. Indeed, 65% of people said they wouldn't expect a luxury one-week holiday for a price tag of less than £2K per person.
In fact, the research finds that people fear price-tag terror so much so that over one-in-five (22%) end up booking all-inclusive trips despite not even wanting to go on an all-inclusive holiday. Why? Just over a third (34%) do so simply because they assume it's easier to plan and more than one-in-five (22%) assume it's the cheaper option.
Yet, almost a quarter (24%) don't consider the additional costs involved, such as spending money when they arrive at their destination.
The reality is that holiday goers in search of what they consider luxury can do it for a lot less than they expect. Travelex's Luxury for Less travel search engine proves that luxury holidays don't always need to come with an expensive price tag, allowing planners to start the search from £250.
So where exactly do we think luxury exists? According to more than half (52%) of Brits, the most desirable luxury location is the Maldives, followed by the Seychelles (45%) and the Caribbean (33%). It appears the UK is a nation of sun-worshippers with sunny climates dominating the list. The top 10 most desired luxury holiday destinations are:
The Maldives
The Seychelles
The Caribbean
Dubai
St. Moritz, Switzerland
St. Lucia
Bali
Paris
Rome
Tuscany
Luxury for Less is available at www.travelex.co.uk/luxuryforless. Together with Skyscanner, users can book their flights, hotel and get their spending money for their dream holiday.