Sleep Park Fly – cheap hotel and airport parking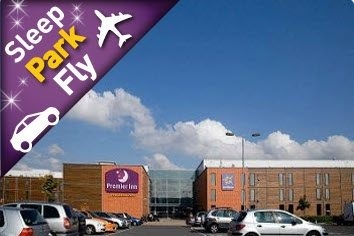 We try to fly from Midlands airports whenever we can. We can get cabs or trains to a couple of airports and that is a lot less stressful than flying from London airports or Manchester.
But sometimes, you get more choice from the other airports in terms of where to fly, that's when we discovered Sleep Park Fly for a very early flight from Heathrow last year.
We arrived the night before, had our dinner and went to sleep in a comfy family room. We got up at 3 am to board shuttle bus that took us to the airport. We left our car in the Premier Inn's secure car park.
Today, I booked my second Sleep, Park, Fly stay. We need to be at the airport at 5.30 am, so would have to leave home at 3.30 am.
I don't fancy starting my holiday that early, so we're staying in the Premier Inn at Heathrow Airport (M4/J4) for one night for two adults and two children.
We get free parking on the night of our stay and 15 nights parking all for £127.85. This time, there is no parking on site, so we are driving to the airport (a few minutes away) and then a parking person takes our car to a secure car park. They will then pick us up and take us to the car when we come back.
For us the stress of getting to the airport on time early in the morning with kids is greatly reduced with the Sleep Park Fly scheme.
When you consider that the cheapest combination of buying a room and separate parking is £151, the Premier Inn offer is a good deal. Here are some prices for room only and Sleep Park Drive combinations:
£89.00 Premier Flexible room
Amend up to 1pm on arrival day
£103.85 Hotel + 4 nights' parking
Pre-pay, no amends or refunds
£115.85 Hotel + 8 nights' parking
Pre-pay, no amends or refunds
£127.85 Hotel + 15 nights' parking
Pre-pay, no amends or refunds
Here are some key facts about Sleep Park Fly:
•Complimentary parking on the night of your stay (excluding London Gatwick Airport North Terminal)
•Choose from 2-4, 5-8 or 9-15 day parking packages
•Offsite car parking facilities with round the clock security surveillance
•Packages available 365 days a year right up until 24 hours before your stay