Original Factory Shop launches complete festival kit for £250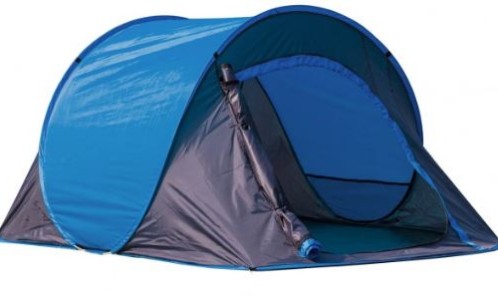 There's finally some good news for those that have always wanted to go to a festival but could never afford it. A cut-price range of essentials containing all you need to get you through a weekend festival goes on sale today at discount retailer The Original Factory Shop (TOFS).
The range (it's huge and you don't need all of it!) includes a waterproof travel rug, pop up tent, air bed and toiletries, and is priced at £246, £167 cheaper than expensive alternatives, and proves that you don't have to splash the cash to see your favourite bands this summer.
Colourful wellies and designer camping equipment are just some of the things that young people have been known to spend their hard earned cash on to get festival ready.
The £246 festival survival range which saves festival goers hundreds of pounds ensures you will have extra money to spend on enjoying yourself whilst you are there but still keep up with the fashion brigade.
Rachel Marshall, spokesperson for TOFS said: "Experiencing a weekend festival doesn't have to break the bank. Enjoying your favourite band in an open field and camping should be on everyone's bucket list which is why we've pulled this festival range together.
The tofs promise is to offer big brands and great prices, so now you can get all your festival essentials and still have money left in your pocket."
Here's a list of the items within the range:
| | | | |
| --- | --- | --- | --- |
| ITEM | TOFS PRICE | RRP / COMPARISON | SAVING |
| Folding Travel Chair | £6 | £9.99 | £3.99 |
| 30ltr Cool Bag | £5 | £9.39 | £4.39 |
| Waterproof Travel Rug | £5 | £8.50 | £3.50 |
| Pop-Up Two Man Tent | £20 | £39.99 | £19.99 |
| Flocked Air Bed | £7 | £12.99 | £5.99 |
| 4ft Folding Camping Table | £15 | £23.99 | £8.99 |
| Packaway Parka | £12 | £17.99 | £5.99 |
| Trespass Black Wellies | £18 | £29.99 | £11.99 |
| Converse Plimsoles | £40 | £45 | £5 |
| Bardot Paisley Top | £15 | £18 | £3 |
| Bandeau Top x 2 (Black and White ) | £10 | £7.99 x 2 = £15.98 | £5.98 |
| Crochet Trim Denim Shorts | £7 | £16.99 | £9.99 |
| Tassel Hem Cardigan | £15 | £24.99 | £9.99 |
| Ripped Boyfriend Jeans | £15 | £35 | £17 |
| Canvas Butterfly Print Backpack | £12 | £15.35 | £3.35 |
| Moroccan Print Summer Dress | £10 | £25.99 | £15.99 |
| Nivea Sun Care | From £4 | From £6 | £2 |
| Jimmy Choo Flash Perfume 40ml | £20 | £36 | £16 |
| Facial Wipes |  £1.00 | £2.99 |  £1.99 |
| Wet Wipes |  £3.00 | £4.49 |  £1.49 |
| Moisturiser |  £5.00 | £14.99 |  £9.99 |
| Mascara |  £3.00 | £7.99 | £4.99 |
| Eyeliner |  £3.00 | £8.00 | £5.00 |
| Lipgloss |  £2.00 | £6.14 | £4.14 |
| Snacks (sweets & crisps and water) | £10 | £10 | £0 |
| TOTALS | £246 | £446.73 | £167.26 |