New money-saving app for sports fans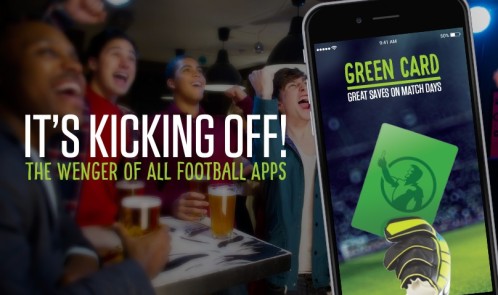 I was watching the rugby yesterday, and it made me have a search for apps that could save me money while watching sport! There is after all now an app for everything.
It seems that this new season heralds a whole new way to enjoy sport in 2015/16 as Sizzling Pubs, O'Neill's, Crown Carveries and Oaktree Pubs launch their new 'Green Card' app, in association with Sky Sports.
The Green Card App is available for iPhone and Android smartphones offering sports fans discounts and freebies on selected food and drinks during major televised games. The free app also links up with the Sky Sports News homepage making sure users are kept up to date with the latest sporting news.
Packed with a host of features including fixtures lists, live results and a 'Find your Local' map,  users can benefit from a range of offers including a massive 20% off selected drinks and foods during game time. Whether with friends or family, loyal supporters or opposing fans, sport has never been so rewarding.
Teaming up with Sky Sports means that as well as saving money, fans have access to all the latest results and news at their fingertips.  What's more, opinions, debates and banter can all be shared interactively through Facebook and Twitter – because we know sport is about much more than just watching. Whether enjoying a game for the neutral or important decider, the Green Card really is an interesting app for sports fans…and it's free.
The Green Card can be used in over 250 Sizzling Pubs, O'Neill's and Crown Carveries and Oak Tree Pubs around the UK and, with unique GPS location tracking, sports fans will be sure to find a local near them.
For more information, visit www.mypubgreencard.co.uk or download from the Apple iStore here.