Men trump women when it comes to money saving (apparently)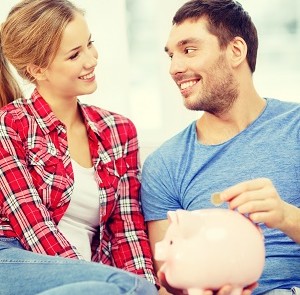 I saw the results of an interesting survey today…. and I had a good laugh at them. Men are better at saving money than women, apparently. Not in my house they aren't! But then again, are we women more tempted to spend money on frivolous shopping sprees and guys really only get what they need? Our smaller purchases may lead to more money spent than our fellas, who make a few big purchases a year….
The comments about Londoners being best at saving is probably because they are desperately saving for the huugggge deposits needed to buy any property there. I also know plenty of people who run out of money before pay day, and who don't even have a handle on their finances, so can relate to the points the survey results cover.
Anyway, here's the research…tell me what you think.
New research has found that men are significantly more money savvy than women when it comes to saving for the future.  In a survey of 1,000 people, one in four (25%) men said they were able to save more than £300 per month while a mere 15% of women did, with 20% of women saying they don't save any money at all each month.
When it comes to where in the UK are the nation's best savers, London came out top, despite its high cost of living – with nearly one in five (17%) able to save more than £500 each month.  This was closely followed by the North East and the West Midlands where 12% and 10% of people respectively put away £500 for the future each month.  At the other end of the spectrum, the North West of England were the worst at saving with one in four (26%) unable to save any money each month.
Over a third (39%) of Brits admitted to running out of money before the end of each month while more than a half (56%) of those that do have money left at the end of the month put it into savings, while one in 10 (11%) splurge it all in one go with a big night out.
Despite this, half of Brits (50%) believe they are careful with money and are always aware of what's in their bank account.  6% admit to being careless with their financial affairs, while women are much more likely to let their partner deal with their accounts.  Meanwhile, 41% of Brits say they are more responsible with their finances than their partner
Kristjan Novitski, founder of short term loan company, Peachy.co.uk which commissioned the research says: "Looking at spending and saving traits is always very interesting and it's fascinating that there is such a gulf between men and women, and between regions.  Of course this comes down to many things; the fact that men still get paid more than women, wage variation across the country and spending opportunities available to consumers.
Peachy.co.uk has recently been shortlisted for best alternative lender of the year in the Credit Today Awards.
Here are top tips from Kristjan to help you save money each month:
Make a budget so that you're aware of what you're spending money on so you can keep a regular eye on your outgoings.  Online banking has made this incredibly easy as you can log in wherever you are.
Be more disciplined – remember that spending money is easy, saving is hard.  Try to think of the long term benefits of savings, as well as the short term benefits of spending!
If you do take out a loan, choose a responsible lender that you can trust – and let them devise a repayment plan that isn't going to lead to you falling further into debt and will suit your lifestyle.
Shop cheaper – even high-end supermarkets have affordable, basic ranges that can make a big difference.
Treat yourself but in moderation – only buy things when you really want or need them.
When pay day comes, don't splurge!  It's so easy to be extravagant when you've got a lot of money in the bank but that soon goes.
Peachy.co.uk has supplied short term loans to more than 330,000 people in the UK with the highest number of their customers coming from London, Manchester, Birmingham, Glasgow and Liverpool.  They have a very strict approval process, only giving loans to people who have a regular income and will be able to pay the money back to avoid the consumer falling into debt.