How many everyday things do you need to give up to get a flight?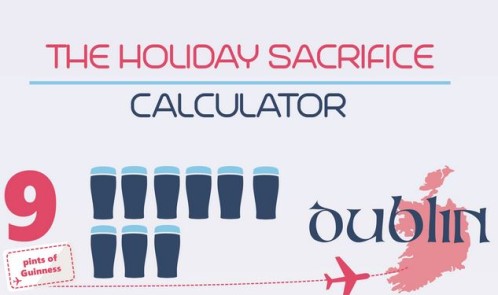 Check out this 'Holiday Sacrifice Calculator' which has worked out how many popular every day items to give up to get a return flight to a destination (i.e sacrificing your morning mocha for just two and half weeks and you could be drinking espressos in Italy!).
We gave up takeaway pizza earlier this year and have saved over £500 – we do have the odd cheeky take out once in a while, or it would have been more – so I know that giving up just one thing can save some serious cash. By the looks of it, I could have flown to Italy most weekends this year!
Some samples of what you could save are here and I've managed to snag an interesting infographic below too:
1. Sacrificing eighteen takeaway coffees = drinking espresso in Pisa It's cold, you're tired and the only solution is a coffee to kick start the day. However kick the daily caffeine habit and you could be drinking espressos in a Pisa café overlooking the Duomo. With return flights with Ryanair costing from £63.43, going without your morning coffee fix (at £3.50 a pop[1]) for just two and a half weeks could get you there.
2. Sacrificing three and a half bottles of fake tan = getting a real tan in St Tropez Don't fake it, bake it! For just three and a half bottles of fake tan (£20.43 you could be sunning yourself in our favourite fake tan's namesake in the South of France, with flights to the French Riviera at just £72.16 with Monarch.
3. Sacrificing nine pints of Guinness = drinking the black stuff in Dublin Why settle for second best when you're just nine pints (and an hour and ten minutes) away from the real thing. Return flights to Dublin with Ryanair cost £39.01, which equals nine pints of Guinness in the UK (average cost £4.20[3]).