Major sales all in one place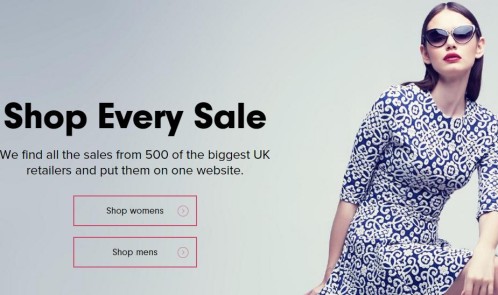 Just put in your size and type of clothing and Lovethesales.com aggregates sale items so that you can compare and contrast easily in in one place. And that news definitely puts me in a happy place.
The launch of lovethesales.com means we have a "one stop shop" for sales items across 5,000 brands (that's loads), meaning there's no need to go from search online from shop, to shop, to shop, to shop to find that next great bargain. In fact, unknown to most of us, at any point in time, whether seasonal sale period or not, between 10% -15% if all retail products carry a reduced price tag. Brands just chose not to advertise it – busting the myth that it's all over after January.
By shopping from lovethesales.com, where everything is on sale, means you no longer have to pay full price for anything, nor do you have to visit a range of different online shops only to realise that your size is sold out.
Lovethesales.com allows users to browse only your size, favourite colour etc in order to make your shopping experience even more streamlined, as well as following your favourite brands and get live updates of their sales stock.
And let's face it, although most of us are keen to make our money last for just that little bit longer, refraining for shopping altogether just isn't an option. However, by making regular and substantial savings on things you buy, whilst sacrificing very little, if anything, in terms of quantity or quality of what you're wearing or doing, is how to get the best of both worlds.
Here are some shopping trends and numbers (just because I can):
Most popular item?
Shoes are definitely the most popular. Let's face it, people love shoes! Lovethesales.com home nearly 20,000 shoes including brands such as Kurt Geiger, Michael Kors, Marc Jacobs, DKNY and more. Shoppers can also refine their search by size, colour, style and brand
How many dresses on the platform?
There are over 35,000 dresses on the site at the moment
What time of the day are people sales shopping online?
The most popular times for sale shopping are Sunday late afternoon (around 17:00) and then weekday evenings the sales site sees a spike around 21:00
Weekend vs week days?
Sunday and Monday are the biggest days of the week. Who doesn't like to kick their week off with a bit of sales shopping?!
So what are you waiting for? https://www.lovethesales.com