How to Live For Free – free book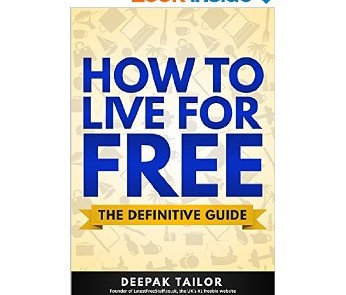 THIS WEEK ONLY, the lovely guys from LatestFreeStuff's book How to Live for Free is completely FREE to download on Amazon (usually £2.99). Get your copy now from Amazon and download it onto any device – mobile phone, tablet, laptop or PC.
How to Live for Free reached #1 Amazon Best Seller in Health and Fitness, in Business and in Personal Finance. It has been featured in The Sunday Telegraph, Daily Mirror, Forbes and The Sun to name a few.
To claim your free copy, click here from the device you want to load the book onto and click 'Buy Now'.
The e-book will be downloaded to your device at no charge and you can start reading immediately.
The book will teach you:
How to eat out at restaurants for free
How to travel the world on a miniscule budget
How to find and upcycle furniture for free
How to make your own beauty products at home
How to learn new skills for free
How to film and theatre for free
…and much, much more. Dive into the wonderful and rewarding world of living for free.
HURRY – How to Live for Free is only available for free until Friday 13th March 2015.