Feed your family for £20 a week: 100 budget-friendly meals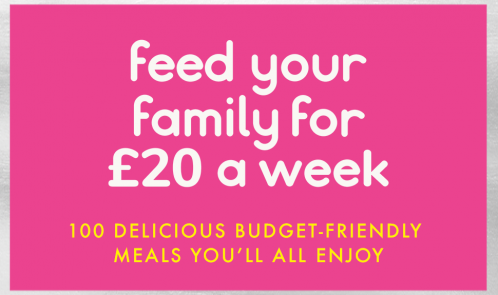 Feed Your Family for £20 a Week is an exciting new cookery brand that will help families to make delicious, home-cooked food on a budget.
Lorna Cooper is the author and a mother of three and a step-mother of two, so she knows how difficult it is to provide a healthy, balanced diet for the whole family without breaking the bank. But when Lorna didn't qualify for sick pay after a medical emergency, she found herself with a budget of only £20 a week to feed the whole family – and her blog was born. Now, Fyf20quid is one of the UK's most popular destinations for low-cost, family-friendly recipes and savvy shopping ideas. Over half a million people have learned how to meal plan, budget and cook for their families for just £20 a week.
I have been using the book for a few months now and must admit that I like buying cookbooks, and have a number, but often I just don't have the in
gredients at home or think it will cost a lot to buy some of them, so don't bother and just look at the pictures and dream.
This book, however, is different – it's full of recipes that I can actually afford to make and gives lots of inspiration for meals. Its'a about simple recipes and making the most of what you have got already, including leftovers and cupboard staples. The store cupboard list and meal planner are really useful. 
It's full of simple interesting recipes and the photos look amazing.
If you follow the planned 8-week menu guide I'm sure you could save loads, but you may need to bulk out the portions if you have growing teens in the house.
The step by step guides help you to g
et organised, plan, batch cooking, reduce waste, and eat healthily all within a budget. The 
recipes are grouped nicely into chapters with photos to show what you are aiming.
My family loves the sausage loaf and the fact that some of the recipes are around 4-6 ingredients…so even my kids can follow them. I have even bought an extra copy for the son to take to college with him.