Do other people's small jobs for money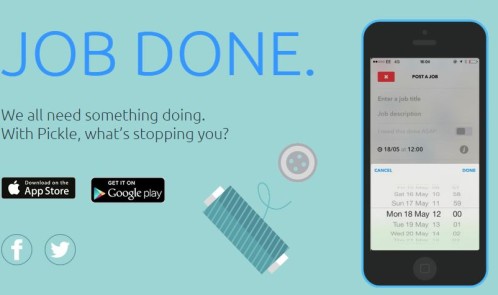 As you may know, I do lots of little things for extra cash and renting out my drive is just one of them. There is a whole new peer-to-peer society, where you can rent, drives, houses (AirBNB) to cars…..
So Pickle seems to be a great extension of this. Let me tell you more…ever find yourself with too much to do, and too little time? Daneh Westropp, a busy working mum (who often did) decided enough was enough and launched Pickle, a new lifestyle enhancing app which buys Londoners time by linking people with jobs that need doing to people willing to do them.
And you aren't limited to the type of jobs you can post… Pickle has huge variety of categories, including 'miscellaneous', which means no job is too random, too small too specialist, or too big; anything from getting a pint of milk picked up or stocking up on coal for a barbeque, to clearing out the downstairs cupboard or commissioning a family portrait.
Pickle also appeals to the lover of a good deal – it is the only task app that doesn't have a fixed price system. With a live auction system, DOs can bid on tasks to ensure they have that all-important competitive edge, whilst NEEDs can set their price, and negotiate with DOs to ensure best value for money.
Identity checks, user ratings, optional verification, and a clever 'brief my buddy' feature (letting nominated friends or family members know where you are if doing a job or who's coming to your home if tasking one) are available to give you a peace of mind, making Pickle super safe as well as easy and flexible to use – ideal for the busy Londoner!
How it works. In a nutshell:
Download the Pickle app and register
Open the app, post your location on the Pickle map
Post your job, timeframe and name you price
Watch and wait while fixers bid for your job
Accept an offer
Once the job is complete; pay via the app and rate your fixer
Download the Pickle iPhone app from http://apple.co/1MMYHfd, or Android app from http://bit.ly/1PC3Rds.