Cut the cost of rail travel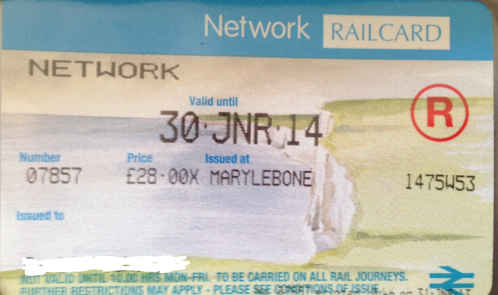 So I travel by train a lot especially to London. The fares have rocketed over the last few years, with a return going up £17. This increase really irks me.
I've found a number of ways to cut the cost of rail travel and keep journey costs down:
Book your ticket in advance – advance can mean as late as 11.59 pm the day before travel. Advance tickets are not as flexible, and if you miss the train you could end up paying for a single fare home but if you know meeting times, this is a great option. Seats become available twelve weeks before travel for the cheapest fares….which is useful if you are doing regular journeys.
Buy two singles – sometimes it can be cheaper than a return, since you may travel one leg of your journey peak and the other leg off-peak.
Get a railcard – for £28 you can save 1/3 off rail travel. I have a Network Rail Card.I don't live in London but I travel in the area  that is covered by the card, so I split my tickets. After Banbury, I can use my Network Rail Card.  I have saved £100 in six months already and paid for the card as well. Tip here is take tickets with you for previous split fare journeys, as when you ask at the station, the request can confuse the ticket counter person. Also, take a timetable and mark of any trains that you can't use, i.e. to use the Network Rail Card, my trains have to stop in Banbury.
Know your peak, off-peak and super off-peak travel times – if you make a regular journey, commit these times to memory, so that you can benefit from cheaper travel and arrange your business meetings accordingly.
Conduct meetings during off-peak periods – trains arriving in London after 11.00 am and leaving by 3.30 pm are cheapest, or maybe go for an evening meeting after 7pm.
Compare train companies' prices – for example, Virgin, Chiltern and London Midland all run from Birmingham to London. They'll have different deals and promotions, so for maybe a little less luxury, you'll save some pounds. Also compare the train companies' prices against ticketing firms. For example, I bought tickets to Brighton and they were cheaper on South Western's website rather than Trainline as the train company had a website only deal on.
Know the deals they do – the Evening Standard run a regular 25p or 50p for a single with Chiltern Railways….unless you read the paper, you wouldn't know, but if you are making a journey, why not search online.
Split your ticket – travel the longest distance on the cheapest fare especially if your journey straddles off-peak and peak times, so buy a ticket from Penzance to Bristol and from Bristol to Leeds. It's worth ringing National Rail Enquiries to see if this is possible for your journey, if you haven't done this before, as no one wants to hold up a queue at the station.
Travel in a group – GroupSave offers discounts for small groups travelling together. Usually groups from three to ten people are eligible. The Network Railcard is eligible for multiple travellers on one ticket too.