Christmas Savings Card – budgeting tool idea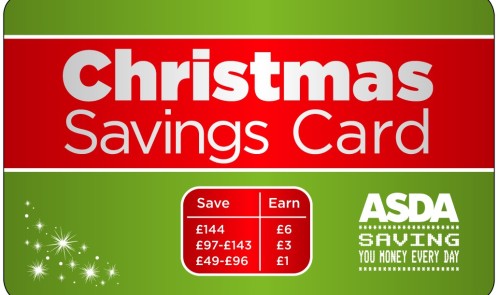 So we have less than 80 days to Christmas and I'm already thinking about Xmas lunch and gift ideas, so time to set some money aside.
Today I heard about the Asda Money Christmas Savers Card, which acts as a saving tool for Asda customers to prepare for the cost of Christmas. Asda customers can add money onto their card at the checkout each time they shop.
The maximum amount customers are able to load onto their cards is £144. To reward customers for their savings Asda pays a bonus, or interest, onto the card which can be spent however the customer wishes either at Christmas or in the New Year in store. It's not much, but as a rival says, Every Little Helps:
For saving £144 – the customer is awarded £6
For saving £97 – the customer is awarded £3
For saving £49 – the customer is awarded £1
6th November 2015 is bonus day, so if customers have not reached the £49, £97 or £144 by the 6th customers will not receive a bonus onto their card :-(.
Over the last ten years, Asda has awarded over £10 million in bonuses. It is possible to save money on more than one card  and they are available all year round for customers to start saving as early as possible.
The cards are free – but there's a postage and packaging charge if you buy online. To purchase, top up or register the card go to www.asdacards.co.uk.
Though this may be a little late for this year, I will defo consider for 2016.