Brits spent almost £5bn in bargain stores last year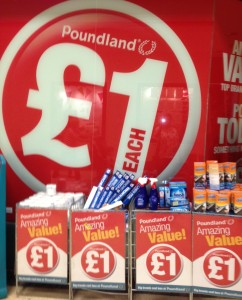 Poundland, Home Bargains, Poundword, Poundstretcher, B&M and the 99p Store seem to be winning in the retail stakes, with four in five shoppers now visiting bargain stores and buying an ever-wider array of goods including fresh fruit and veg.
Data from market researchers Nielsen showed that spending at bargain stores totalled £4.9bn in the year to July, up 17% from the previous year.
Nearly four-fifths of households in Britain (78%) now buy from them, with more than half shopping at Poundland alone. Combined Bargain stores are more popular than the German discount supermarket chains Aldi and Lidl, which are visited by three-quarters of households. I guess that's because there are fewer Aldis and Lidls in town centres.
Almost a third of the increased annual amount spent at bargain stores resulted from shoppers switching from mainstream supermarkets and health and beauty retailers. Britain's top four supermarkets – Tesco, Sainsbury's, Asda and Morrisons – have been worst affected, accounting for nearly three-quarters of the spending shifted towards bargain stores.
There has been a huge rise in first-time visitors, as they continue to win market share, particularly as they are expanding in retail parks and on the high street, and if the Brexit vote turns out to affect consumer spending.
The growth in sales has also been driven by bargain stores moving beyond the £1 price tag – almost one-in-four items cost more. The ability to offer higher priced goods that are still good value, makes for bigger baskets, which is good news for the retailer. I must admit that Home Bargains toilet roll at around £2 or £3 for 18 always has me loading the car up!
Household items, packaged groceries such as pasta, cereal, crisps and canned goods, sweets and cosmetics are the most popular products bought, accounting for 63% of bargain store sales.
However, fresh fruit and vegetables have recorded the biggest rise in popularity, albeit from a small base over the last year, in terms of number of shoppers and frequency of purchase. While shoppers have traditionally visited pound shops for non-perishable items, they are now also stocking up on 2kg bags of potatoes and kilogram nets of carrots and onions.