Best supermarket for online grocery shopping – a comparison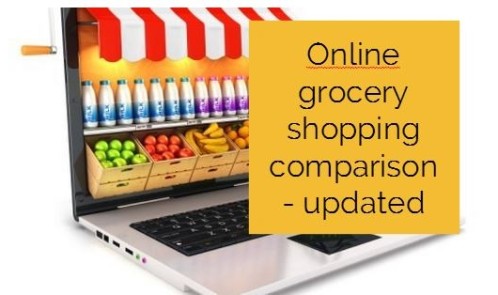 It's been a while since I updated my comparison of supermarkets that do home deliveries, so here is my research of the following online grocery providers – Waitrose, Ocado, Tesco, Sainsbury's, Morrisons and Asda. I know that Iceland delivers, but I find that their range is limited, so I am not including them.
I evaluated the supermarkets on the followting and in each category, the top supermarket comes in at position 1. Of course, one position 1 doesn't mean everything is fanastic, so my top supermarket is the one that has the highest number of 1s and 2s, and this time we have joint winners: Ocado and Tesco, but remember if you want quality food, go to Waitrose, but be ready to pay more…it's really up to you, but I hope that my research will help you.
Categories evaluated on were delivery charges, Minimum spend, Delivery slots, Click and Collect, Delivery times, number of products, cheap delivery packages, first order incentives, loyalty points, customer service and online experience.
Prices
Asda came in cheapest for 21 items which included staples such as cornflakes, fruit and tea and coffee. Although Asda came in top, other supermarkets will match brand name product prices and shops like Ocado may seem pricey, but they will match Tesco prices, so that's worth considering. I used the Mysupermarket.com app to compare prices.

Delivery charges
Morrisons: The delivery charge for an online order ranges from £1 up to £5 and depends in the day and the time of the day that the order is placed.
Waitrose: Delivery and collection of Waitrose.com Grocery orders is free, but there is a minimum order spend of £60 for delivery and £40 for collection. Delivery and collection of Waitrose Entertaining (party food orders) is free. For their Shop in Branch, We Deliver service (where you shop in branch, leave your bags at the checkout and we deliver them home for you) the charge is £3 if you spend £50 or more, and £5 if you spend less than £50. 
Tesco: Charges range from £2 to £7.
Sainsbury's: offers a variety of delivery slots that can range from £1 up to £7 depending on the time of day. There is free delivery on orders over £100 on Monday – Thursday after 2pm.
Ocado: Delivery charges vary day by day, area by area and customer by customer, depending on demand, availability and other factors.
Asda: Depends on time of day and is up to £5.
Minimum spend
How much money do you need to spend to get a home delivery?
Asda: Home delivery £25 and Click and collect £15.
Tesco: minimum spend of £40.00 or a £4.00 minimum basket charge is added, which is ace as you can get delivery for smaller orders too if you are willing to pay the surcharge.
Morrisons: Minimum order spend for an online order is £40
Waitrose: minimum order spend of £60 for delivery and £40 for collection.
Sainsburys: Minimum basket size of £25 for your delivery but you need to spend over £40 to get the delivery slot at the price picked, otherwise there is a standard delivery charge of £7 applied to the order.   
Ocado: The minimum spend for orders is £40.
Delivery slots
Who offers one hour delivery slots, so that you don't have to wait around?
Waitrose, Tesco, Sainsbury's, Morrisons and Ocado offers one hour slots. 
Asda: offers two hour slots.
Click and Collect
Who offers you the chance to order your shopping online and collect in store.
Waitrose, Tesco and Asda: offer click and collect.
Morrisons, Sainsbury's and Ocado do not.
Delivery times
Who can deliver really early when you return from a night shift or at the end of the day after you've been out?
Ocado: 5.30am – 11.30pm 7 days a week which are subject to availability
Morrisons: Earliest delivery slots are between 06:00 – 07:00 and the latest delivery slot we have is between 22:30 to 23:30, we also offer one-hour delivery slots.
Asda: 6 am to 11 pm are when groceries are delivered.
Tesco: From 7am to 11pm, but for most the earliest delivery slot is 8 -9 and 10 – 11 is the latest.
Sainsburys: Delivery slots offered right through the day starting at 7:30am in the morning up until 11:00pm at night, each slot is given an hour allotment for example 08:00-09:00 or 12:00-13:00.
Waitrose: the earliest being 8am – 9am and the late set being 9pm – 10pm.
How many products
Who's got a large range to choose from? The supermarkets were in general reluctant to give me figures, apart from Ocado and Morrisons.
Ocado: sells over 45,000 items on the site and more being added monthly.
Morrisons: over 20,000 products available on our website.
Waitrose: told me that they offer "unlimited" products online that are updated and changed on a daily basis.
Tesco: said that they ofer a large range of items online usually what we have stocked in Store.
Sainsburys: as there are new products being added and removed from the website daily, they said that it is impossible to give an exact figure of how many products are available online at present.
Cheap delivery packages
Tesco: offers a delivery saver plan, starting at £5 per month for 12 months.
Morrisons: delivery passes available for customers to purchase, the Midweek Pass enables customers to have order on Tuesday, Wednesday and Thursday, without a charge and offer a monthly, six monthly and yearly pass which are charged at £5, £20 and £30 respectively.  They also have an anytime pass which is for deliveries every day of the week and again is monthly, six monthly and yearly and these cost £7, £40 and £60.
Sainsbury's: There are two types of delivery pass, midweek pass and anytime pass. We offer each pass in lots of 3, 6 or 12 months. An example of the supermarket's passes is the anytime 12 month pass, this offers customer's free delivery anytime of day for a one off payment of £60 for the year (works out at £5 a month).
Ocado: To stop paying individual delivery charges, you can sign up to our Smart Pass service that can save you hundreds of pounds a year if you shop regularly. With our Smart Pass you can also save at least 10% on certain products. For more information, see the Smart Pass page when you are next logged on to the webshop. The pass is over £100 per year.
Asda: they have a range of plans, starting at £8 per month.
Waitrose: Not provided
First order incentives
Waitrose: They offer codes online for the first five orders you will receive £20 off on spends of £100 or more.
Tesco: They don't have any 1st order incentives going on at the moment, but often offer £15 off first shops.
Morrisons: offer a £10 voucher for a first delivery of £60 and above. 
Sainsburys: vouchers are available for first time shoppers that offer £18 off the first online shop and then £10 off the following 4 shops.
Ocado: first time customers can benefit from using a £20 voucher if they spend £80 and over.
Asda: nothing found.
Loyalty points
Tesco: well-established Clubcard loyalty scheme.
Sainsburys: Well-established Nectar card scheme.
Waitrose: The loyalty schemes offered are discounts online, vouchers and codes sent for money off if you are a regular customer. There is also pick your own offers where you can register ten items that will give you 20% off each one every time you buy them. Free tea/coffee and newspapers in branch if you are picking up your shopping.
Morrisons: Morrisons have a loyalty card called the More card and you can register for one via the groceries website usiing the same email address and password that you use to set up your Morrisons account.  You collect points from online orders or shop visits and once you have 5000 points you will be eligible for a £5 voucher.
Ocado: Not really a loyalty point scheme, but is their way of rewarding you with your next shop. If your shop qualifies for a Low Price Promise voucher, where your shop is more expensive than Tesco for the equivalent products, you'll automatically receive it by email within 3 working days of delivery of your order, and can use the discount on your next order.
Asda: no scheme available.
Customer service
I contacted customer service via email or by web form, and was pleasantly surprised that Ocado and Sainsbury's answered in less than 24 hours, while Tesco and Morrisons called me in less than 48 hours. The major disappointment was Asda..no response to the email enquiry and I called their Philippines-based call centre in the evening a week later to get a response.
1. Ocado was the outright winner here, and gave me the most comprehensive answers, and the response email was so cheerful, and the fastest. They also have a live chat facility on their site.
2. Sainsbury's gave me plenty of useful information, but wouldn't share the number of products available.
3. Tesco phoned me and then followed up with an email when I requested one.
4. Morrisons also called me and followed up with an email.
5. Waitrose gave me answers to the questions I asked in less than 48 hours.
6. Asda really needs to sort their customer service out. No acknowledgement of my email at all, and I called their friendly customer service call centre, but it was a little difficult to understand what she was saying and she didn't quite understand what I was asking at times.
Online experience
While trying out the shops online, I wanted to share a few points about my experience with the shops.
1. Ocado autofills when searching for words and has really useful search menus giving options to help while searching. The site was fast and responsive. I got the feeling that their products were better quality, with lots of organic products for example, and a tab for win from the home page. It also has an offers link which gives lots of options, eg bundle offers, half prize etc.
2. Waitrose: very slick and tempting website…gorgeous photography, really makes you want to shop there.
3.  Tesco allows you to type a shopping list, which was fantastic for time saving. Tesco offers Brand Savers so let's you know which of your favourite brands are on offer and offers priced up recipes.
4. Morrisons also offers different types of offers and has a new section, which is a great idea, as shopping online means that you miss new items in store.
5. Sainsbury's allows you to type a shopping list, but to me felt more like a corporate website, rather than a shopping site.
6. Asda didn't offer the opportunity to see the rest of shelf when searching using a key word.  You can't type in your shopping list and the site was slow to load.