An alternative to Loyalive – free loyalty cards app from Stampuno to access all your shopping cards in one place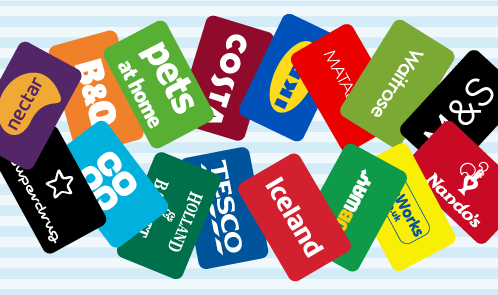 Do you have the same problem as me? A handbag or purse with too many plastic and paper loyalty cards in those tiny little pockets – and they can be a real pain to use.
I might often struggle nervously to find the right card when I get to the till or café counter. If I can't see it (my eyesight isn't what it used to be), I sometimes give up, because I don't want to hold up the queue, pay the full price and lose some potential loyalty points.
Never Again Miss Any of Your Loyalty Card Points
I think a loyalty cards app is important for us shoppers. We spend huge amounts of money in shops every month and we deserve to get and use all the loyalty points we have earned.
After trying out different ones, I've discovered Stampuno loyalty card app.
I was a fan of the Loyalive app and blogged about it back in 2015 and had started to store all my cards on it – but it stopped working in 2017 which was annoying! So, I've been searching for another 'digital purse'.
Maximum rating for loyalty card app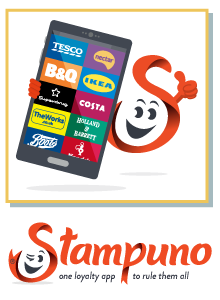 It's easy to add a card – simply scan the barcode on your device, 'et voila', it logs the card in my 'virtual purse' and I can present it at the checkout. Sometimes shop scanners struggle to scan my phone but most staff are happy to type in the loyalty scheme membership number because they know it's important to keep us shoppers coming back to shop.
When I talk to my family and friends, they agree. It is frustrating to try to keep all loyalty cards together in wallets and handbags. Far better to have them in an app, easy to see on a device such as a mobile or 'smart' watch.
I read in the news that one out of every five people who have loyalty cards have not redeemed their loyalty points in the last year – and seven percent never have! Perhaps that's not a great surprise when I think about it… I came across some cards at home last week that I've used just once. I know they have loyalty points on them but I forgot I had them!
Sometimes I leave cards in the car, sometimes they end up as a soggy mess from the washing machine (left in pockets!), sometimes they get lost. Often, I'll find cards bent and even torn at the bottom of bags, or I'll have several of the same card scattered through my home.
Never lose a loyalty card again
With so many loyalty cards to keep track of, I think that we need to find a better way to keep and update loyalty points, so an app like Stampuno is a good option. It recognises all popular UK store cards such as: Waitrose, M&S Sparks card, Tesco Clubcard, Sainsbury Nectar, Boots Advantage Card, JohnLewis, The coop, Morrisons, Nando's, The Works, Subway, Costa, IKEA/ IKEA Family, Superdrug, and Holland & Barrett.
When I've contacted Stampuno through the app to submit unlisted store cards, I always find them very helpful and they quickly add any other loyalty, reward or membership card if it's not on their database.
Loyalty card apps make shopping easier
Thank goodness then for loyalty apps. With them you can keep all loyalty cards for free on my phone – and back them up in the cloud so they can't be lost and are always available to use wherever you go, in shops, cafés, restaurants, etc.
I used their iOS app, but it seems they run on Android and Windows as well, so if you are looking for a loyalty app, why not give Stampuno loyalty card app a try?