What is AirBNB?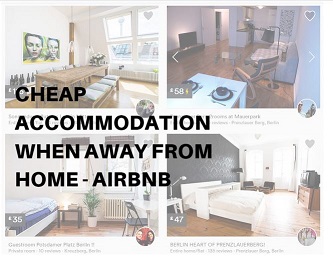 I've been looking at travelling more this year, but even after cheap flight deals, the price of accommodation puts me off.
So I've been looking at
Airbnb
– it's an online community marketplace that connects people looking to rent their homes with people who are looking for accommodation.
Property owners are called hosts who list and rent out their unused spaces, and travelers search for and book accommodation worldwide. The service may have started appealing to budget-conscious tourists, but now even business travelers are using the service.
I already offer my parking space through
JustPark
 where strangers park on my drive, so I see the appeal in making money from unused spaces and from a travellers point of view, a cheaper place to sleep than a hotel. Anyway, I've done a little bit of digging and you can use the service all over the world, from Berlin to the US to Brighton.
What information can you get on the spaces available?
Room type – entire place, private room or shared room
Price – minimum to maximum
Size – number of bedrooms, bathrooms and/or beds
Amenities – wireless Internet, TV, kitchen, pool, pets etc.
Property type – standard properties such as flats, houses and bed & breakfasts, as well as non-standard accommodations such as castles, caves, igloos and tipis
Host language
Keywords – if the traveler is looking for something specific, such as "oceanfront" or "close to Tower Bridge"
How does it work?
Travelers can search the database of properties. For bookings, a traveller needs to register. Travelers can ask questions of the host before committing and can reserve a space through the "Book It" button and entering payment details via a secure payment system. Travelers pay a service fee of 6-12% on top of the reservation to cover customer support and the Host Guarantee.Once a traveler pays and the host confirms the reservation, Airbnb holds the payment for 24 hours after check-in before releasing the funds to the host. Airbnb takes a 3% service fee from the host for each reservation.I think the service sounds like it could be worth a try.