9 creative ways to make money online in 2015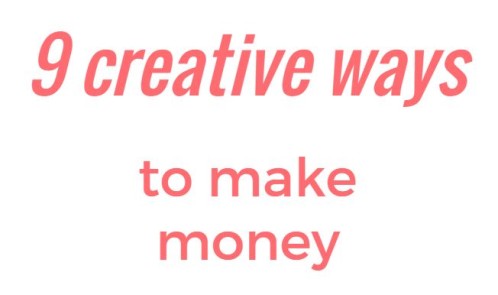 We know all about eBay, Gumtree and the Friday Ad website, but surely there's got to be more to making money online than that?! Yes, there is and I'm about to share with you the whats, wheres and hows to help you generate some quick cash at the end of a tight month, or save for something special without the eBay charges and Gumtree and Friday Ad hassle.
Whether you want to make some fast bucks, or boost your holiday fund here are some top ideas for how to work with what you've got to make money online.
1 – T-SHIRT DESIGNS: TEESPRING
Got a great idea for a t-shirt design? Get it up on Teespring, set your price and minimum order, market it on social media, and once you've hit your target the t-shirt goes into production. Teespring takes the logistics barrier out of the equation, freeing you up to design and market to your heart's content. Each t-shirt has a base price, which is the money Teespring makes, anything above that is yours.
2 – OPINIONS: CROWDOLOGY
A popular survey site, Crowdology pays via Paypal, and has a minimum threshold of just £4 to reach before you can redeem your funds. Each 2-15 minute survey pays between 40p and £10. A real mixture of subjects are covered, with questions on anything from politics to burger preference (three guesses which the favourite was?).
3 – UNWANTED BOOKS, CDS, DVDS AND GAMES: ZIFFIT.COM [3]
According to trade-in site, Ziffit.com [1], most of us are hoarding around £1,200 worth of unwanted books, CDs, DVDs, Blu-rays and games. Use the quick and easy service – to get rid of your clutter whilst freeing up some extra cash – online, or via its free app that scans bar codes and instantly offers the price for each item. You can either drop items off at a local collection store or await a free courier collection service if your package is over 10kg.
4 – HOLIDAY ROOMS AND HOMES: AIRBNB
The sharing economy has really taken off in recent years, with people renting out all kinds of unused space and items. AirBnB is a key part of that growing market, going from strength to strength since its launch in 2009. Choose when and who you rent to, whether you rent your whole home or just a spare room, and how much you charge.
5 – TEACHING SKILLS: SKILLSHARE
Great at showing people how to do things? Describing the site as a "learning community for creators," Skillshare offers unlimited online classes to complete in your own time and a vibrant community to share with. As a Skillshare teacher, you can earn through their Partner Program once you get 300 students enrolled across all of your courses. Teach anything from calligraphy to crowd funding and watercolour painting to web design.
6 – CRAFTY CREATIONS: ETSY
Often find yourself making gifts? Have a creative streak that needs an outlet? Etsy might be just the place for you to set up shop. An online marketplace for all things vintage or handmade, Etsy creators who take a unique design and put in the legwork can earn thousands per month.
7 – STUNNING PHOTOS: IMAGEBRIEF
Standing out from other stock image libraries, Imagebrief is an on demand service with a regular flow of high paying briefs for photos required by agencies, brands and publishers. Briefs tend to command fees from $250 into the thousands, with photographers awarded 70% of the fee.
8 – VIRAL VIDS: YOUTUBE
YouTube millionaire Devinsupertramp (aka Devin Graham) has been wowing viewes since 2010 with his extreme sports and adventure videos. From the world's largest urban zipline to a unique parkour tour of
LOTR's The Shire, he makes his money through advertising, businesses
buying his footage, and by winning sponsorship from tourist boards.
You don't have to be an adventurer to make money on YouTube though,
instructional and educational videos do very well – so if you have
niche knowledge, share it!
9 – FREELANCE SKILLS: ELANCE
Whether you write darn good copy, develop apps with finesse, or design
killer WordPress sites, if you have the know-how and determination,
Elance has opportunities to bring those skills to market, with top
earners like Danny Margulies taking home six figure salaries and
sharing their insights on how to achieve that.
There's heaps of potential to use your household clutter, skills and
creativity to generate money online. To maximise success: know your
skills, know your worth, find a unique product and research simple and
time-light ways to let people know about it.