8 money saving tips for a great-value family getaway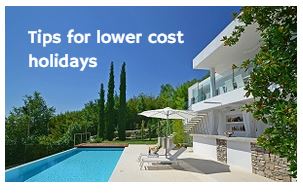 With the arrival of a new tax year, it's a time to take stock and tighten up household budgets to spend on treats like summer holidays. The folks at Villas Direct have pulled together some top tips for holiday bookings to prove that you don't need to miss out on life's luxuries whilst saving pennies – just be a savvy spender!
The current state of the Euro means holiday bookers are feeling confident of a deal to be done, but perhaps not sure how to go about getting one. Bagging a great price for your family holiday means you can focus on treating the kids with a generous ice cream fund, a real priority of course! Nico and Elkie Nicholas, the husband and wife team behind VillasDirect.com, have put together their top tips to help you get the best deal on your next holiday:
1. Pay your balance now to cash in on the strong pound/weak Euro
If you are able to clear your balance on upcoming holidays now, you will secure the best deal. With current euro rates looking so favourable for us Brits, it is the perfect time to lock down the lowest prices for years. Grab those bargains whilst you can!
2. Pick up your Euros now for a great conversion rate
Seize the day by ordering your Euro spending money now as well as with paying for your trip in Euros. Rates at the moment mean that you could get around 40 cents more for every pound converted than a few years ago! [1]
3. Choose your search resources carefully
Does the website you are using to find that perfect holiday offer options from several accommodation and travel providers? This gives you the best chance of finding the best deal on the market as a whole, not just the best one from one provider.
4. Look out for best price guarantees and true price comparisons
A best price guarantee is legally binding. This means holiday companies advertising 'best price' offers are obliged to provide you with the cheapest price available, or to match the price that is. Price comparisons are the bread and butter of any online search nowadays, if you aren't making the most of them, you risk overpaying. Use a site with both components to make you the boss of booking.
5. Check alternative routes and airports
Flexibility is your friend when it comes to booking a holiday. Simple things such as changing your flight route, or finding an alternative departure/arrival airport can mean hundreds of pounds saved! And with so many UK airports alone, we are in a great position to shop around and grab ourselves the best deal around.
6. Self-catering vs hotel
Accommodation is the key to getting the best value from your holiday. You might find a great deal on a hotel but while you're away the little extras add up and you're left with the nasty shock of a bill upon departure. Renting a villa can be much easier on the purse strings. Cooking for yourself rather than going out for dinner every night and having your own beautiful garden or pool to relax in makes it much easier to stick to your budget.
7. Get to know the locals
Never underestimate the value of a tip from someone who knows the area. Whether it's the cheapest place to buy your groceries, the best sites to see or which delicious dish you mustn't leave without trying – locals will always know the best things to do and cheapest way to do them.
8. Book last minute for a bargain
Unless you have your heart set on a dream destination or an unusual requirement that requires extra planning, the best deals to be had are the last minute ones. Make a plan not to plan, just go wherever grabs your attention nearer your departure dates. Spontaneity is rare when you become a parent – so incorporate it into your holiday!
VillasDirect.com has over 80,000 professionally managed villas on their books, and shows live flight and car hire prices as you browse.