7 ways to help save money in the new year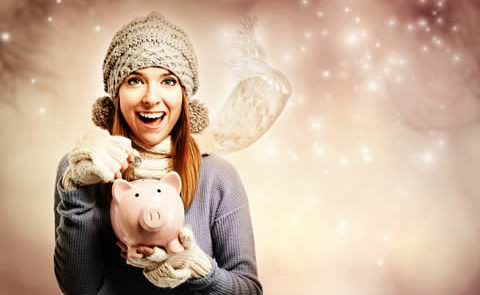 So is the season to be skint! Don't worry as you can splurge now and then cut back in the New Year and here's some hints about how:
1. Recycle Christmas gifts
Keep all unwanted Christmas gifts that cannot be returned for a refund in the packaging and recycle to save you buying some gifts for people during the year. Be sure to make a note of who the gift was from to avoid giving it back to that person! Keep pretty bows, gift bags and packaging to reuse and avoid buying yourself – under the mattress is a good storage place to keep gift bags nice and flat.
2. Plans for leftover food
According to www.lovefoodhatewaste.com, in the UK we waste £12.5bn every year throwing away food. With a little planning, we could reduce how much food we throw away and cut the cost of the food shopping.
After dinner has been dished up, put food into containers and put in the fridge or freezer as soon as possible. Slow cooked stews, currys, casseroles can be frozen and eaten within 2/3 months (keep plastic takeaway containers for this purpose), leftover vegetables can be blended with some stock and made into soup, fruit that isn't so fresh can be made into a crumble and frozen and use up bread/croissants/brioche to make a bread and butter pudding. Mix leftover cooked pasta with mayonnaise to go with a salad.
3. Buy less cleaning products
Kitchen cleaner, bathroom cleaner, toilet cleaner, floor cleaner, window and mirror cleaner…the list goes on! Do we really need it all? Hot water with a squeeze of washing up liquid is sufficient to clean kitchen and bathroom surfaces, floors, windows and mirrors. Make sure you dry afterwards with a clean dry tea towel to avoid streaks. Any unwanted coca cola can be poured into toilets and left overnight to clean, and limescale on taps can be tackled with a simple paste made up of some lemon juice and some inexpensive bicarbonate of soda. This mixture is also good to use to clean fridges and will get rid of any pongy odours.
4. New year, new rules
Use the new year as a good time to make some household resolutions to help save money. To save money as best as you can on energy bills, you need to have everyone at home trying to help. For example, turn the heating off in rooms you don't use often, such as spare rooms and dining rooms and keep the door closed. For more ideas, on saving energy bills take a look here.
5. Cut cost of entertainment
Do you need to renew the TV package? see if your friends want to get clever with their finances too this year and have an arrangement to swap and share DVDs and games. Better still – have less expensive nights out and arrange a few movie nights in instead. If you still want alcohol, make up a jug of mulled wine in the winter or sangria for the summer – that way you can get away with using cheap wine, the fruit and spices added to it mean your guests will never know the difference. Home-made popcorn is far cheaper than any at the cinema and fun to make with children too.
6. Cut the cost of using a car
Firstly, stick to the speed limit! Driving at 85mph uses up to 25% more fuel than driving at 70mph. Don't carry things in the back of the car that you don't need as any extra weight decreases efficiency. Keep an eye on tyre pressure – Under inflated tyres will cause the car to need extra fuel to counteract the increased resistance.
7. Plan and book holiday in advance to secure a good deal
It is best to be as flexible as you can with the dates and book a few months ahead if possible. Flights mid-week are usually the cheapest, check 2 comparison websites to ensure you are getting a good deal before you book – such as skyscanner or travel supermarket.
If you are booking a traditional family holiday through a travel agent – don't be afraid to haggle the price!
And if you are thinking of already saving for next Christmas, and need more ideas, check this out.