Bulldog shower gel in refillable 5 litre pack for £25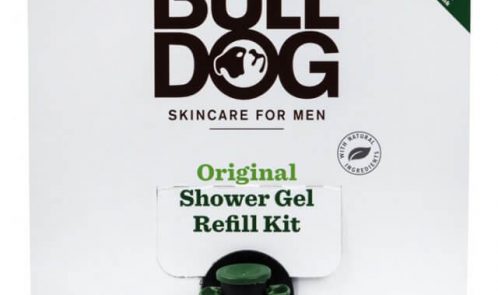 I used a five litre refillable hand soap and so was interested to see that my kids favourite men's washing products brand Bulldog is cutting packaging waste by 85% with new refillable shower gel pack.
The male grooming brand's new 5 litre refillable pack is made from recycled cardboard and can hold 25 bottles of its Original Shower Gel (£25) to reduce its plastic waste. The price is an introductory offer. You get a dinky bottle in with the offer – looks about 50 ml – which won't last the males in my family long, so I'll probably refill other shower bottles.
The box launched in August, is made from recycled cardboard and can hold the equivalent of 25 shower gel bottles.
Customers will be able to refill any container they choose thanks to the box's dispenser.
This is not the first time Bulldog has made an effort to reduce its environmental footprint.
According to the brand, it has never used plastic microbeads in its products and, earlier this year, it announced it would use plastic derived from sugarcane, which is grown sustainably in Brazil.
The brand also released its Bamboo Razor with a natural bamboo handle and recycled packaging last month.
The new box will be available exclusively from Whole Foods and online via bulldogskincare.com.