Free WiFi for York city centre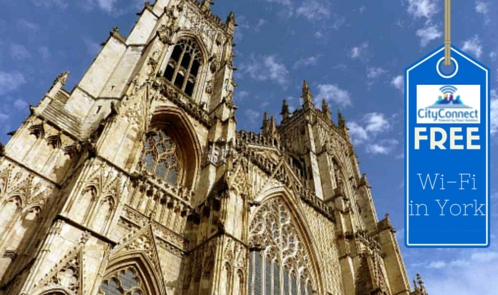 I thought you might be interested to hear that there is now free WiFi for all residents and visitors of York.
This initiative offers real money saving incentives to those wishing to travel to York, as well as long term saving for those working in the city.
York may be one of the most historic cities in the UK, but it is also fast becoming one of the most digitally connected with free unlimited WiFi now available across large parts of the city centre.
Free WiFi from CityConnect, provided by a company called Pinacl Solutions, can be accessed throughout many areas of the city, including key landmarks such as the historic York Minster, and at all six of the city's Park & Ride terminals.
From cobbled street The Shambles to the famous York Dungeons, its rich ancient history and wealth of visitor attractions make York a must visit for people across the UK and much further afield. Now, visitors to York can be sure they will be able to navigate the winding streets in the city and search for the best attractions whilst out and about, with the free WiFi that is available.
With 7 million visitors to York each year, free WiFi will allow people from across the world to make the most of what the city has to offer. York is a notoriously difficult city to navigate, so being able to download Google Maps easily is a must for tourists. With that and the rise in popularity of Instagram and 'checking in', it's now set to welcome people to the city and ensure they have the best time possible.
I wish there were more companies like Pinacl in the UK!