10 ways to cut the cost of your new kitchen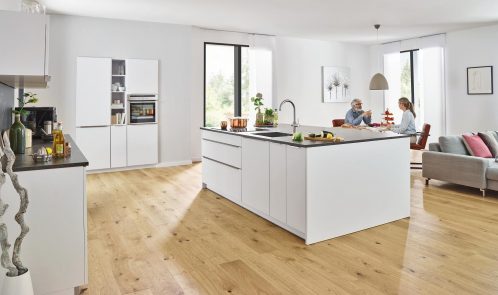 I have a kitchen that's over 10 years old but it looks pretty good, and here are some tips to updating your existing kitchen if you are on a budget.
-Complete kitchens on eBay-
With lots of refurbs going on, pick up a kitchen from eBay. You'll probably need to collect, but sometimes applicances are thrown in. And if you don't like the colour, just get some kitchen cupboard paint and spruce up the doors…probably still cheaper than buying new!
-Just replace the doors-
Most kitchens cupboards are well made, but just dated. So head to places that sell cupboard doors online.
-Flooring-
I found that using flooring companies from less affluent areas saved me a lot of money. Depending on where you live, head to a less well off area of town, and services will be cheaper but just as good. You can get posh lino that looks very smart or Amtico or the cheaper Kardean, but that's quite pricey unless you have a small kitchen. I love wood, but would go for engineered as real wood doesn't work with water well. If you are not doing it yourself, you'll want a company that preps the floor and installs, not like John Lewis for example, who will only install.
-Doors and windows-
Forget the big firms, get smaller local firms to quote and ensure that they give you a discount if you are taking a lot of windows/doors. Also, you can find UPVC doors painted all these trendy greys and greens on eBay now, BUT they might not meet current security standards, so may be useful for internal doors at the fraction of the price of brand new.
-DIY Countertops-
If you've got the right tools on hand, a cheap (or second-hand) kitchen counter can be turned into a much more impressive granite-topped unit by simply putting a thin slab on top of the existing counter, or replacing the existing countertops entirely. This can be much cheaper than buying a full granite-topped counter fresh off the shelf, and only requires some power tools and some granite – it's not hard to find building supplies online, so neither should be an issue for a committed DIY fan.
-Think Structurally-
If you're putting the new kitchen in a room with structural supports, like central pillars or an archway, don't get rid of them – build on them! If you've got exposed supports, get some plaster and cover them up to turn them into useful places for hooks, noteboards, or whatever else your kitchen might need. It's a lot easier and cheaper to alter the contents of a room compared to it's shape.
-Repair Everything-
If you've got broken, incomplete or damaged furniture – either from your old kitchen or from somebody who was selling it off at a low price – consider getting some materials and fixing them up yourself. For example, if a wooden cabinet has part of it's side missing, you could easily grab some timber and cut down a new side panel yourself. It's incredibly easy to find building materials online, so you can fix up any piece of furniture as long as you've got the tools for the job.
-Paint Your Furniture-
Buying new furniture and appliances can set you back a lot of money in a very short span of time, which is a problem if you want to get your kitchen looking perfect as soon as possible. It might be better to paint and recover your furniture, especially if you've built or repaired it yourself – if the wooden parts of a counter don't match with the granite top you're hoping to add, just re-paint them in a more pleasant colour. I covered with leatherette and painted with that fake wood effect paint chairs that my parents had had for years, and they are still going strong 30 years after they were bought, they just look fresher…. Oh and if you have horrid tiles, taking them off and replacing them with others may be expensive, so remove and save the plaster if you can, and paint with a nice kitchen paint instead, or even paint your tiles…it's possible.
-Don't Move Appliances-
Appliances may look easy to move, but the wiring and/or piping in them makes it incredibly expensive to shift them more than a couple of feet at best. If you're redesigning your kitchen on a budget, keep them where they are – even if it's slightly inconvenient compared to what you want, the saved costs mean that you can easily get those appliances moved later on, without risk of going over your remodelling budget.
-Cutout Walls-
If you want to remove an entire wall from your kitchen area, the costs can be immense, especially if said wall is load-bearing or contains pipes and wires that would need to be rerouted. By removing half of a wall and turning it into a countertop, you not only open up the room but add another surface, which could even become a major addition to your kitchen, or act as the "dining room" of the house.
-Take Your Time-
Remodelling your kitchen doesn't have to be instant – build or buy your furniture first and make make any modifications or alterations at a later date, when the impact on your budget won't be so bad. For example, adding glass doors to a cabinet or cupboard – you can do this at basically any time, and it won't inconvenience you any more than it wound if you did it right away. Considering you can buy almost any set of hand tools, power tool and building supplies online, there's no need to rush into things head-first if you can't afford it.
-Use More Materials-
Everybody knows about granite being a popular countertop choice, but in truth it can be much cheaper and much more impressive to use a mixture of materials. Timber, for example, can be great for a kitchen island surrounded by a regular granite counter surface, and can be easily bought online without having to strip down and wood yourself.
-Think About Size-
Do you really need all your cupboards? Are you using them all? Or do you not have enough? If you're reworking your kitchen from the ground up, don't replace everything on a one-to-one basis: only keep or add what you need, and don't fill up empty space with unneeded furniture or appliances "just because". Minimalist, uncluttered kitchens are my favourites.
-Use Shelving-
Shelves are often forgotten in modern kitchens, but a stack of shelves can be not only more efficient but much, much cheaper than a series of cabinets. You can even build them yourselves with some timber or other materials, provided you've got the right tools for the job and know what you're doing. But if you are putting in shelving, be ready to dust!