More ideas for budget things to do in the school holidays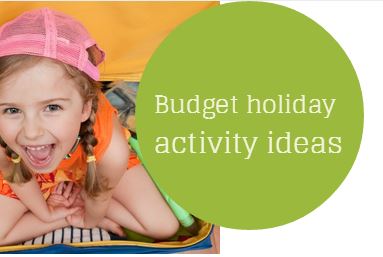 Are you like me and not going away this summer or going on holiday at the end of August? Well don't despair, Mrs Bargain Hunter is here ;-). Here are some more ideas for you to fill the summer days.
Turn your living room into a cinema
Everyone loves a trip to the cinema on a rainy day, but let's face it, the cost of a family ticket plus food isn't exactly cheap! So why not try your hand at recreating the magic of the pictures at home with your loved ones this summer? Try blacking out your windows, grab some microwaveable popcorn and ice-cream, and spend the afternoon holding your own personal movie marathon!
Check what summer events your council is holding
People often forget that local council websites are handy for more than just checking what day your bins will be collected and when your council tax is due. Be sure to have a look to see what kind of free events, festivals, parties etc are being held in your region over the coming months.
Organise a sports day
Putting together a small sports day for a group of children in your garden or local park can make for a great day of activity in the sunshine. It also gives you the chance to introduce the kids to some classics and somewhat forgotten, retro games (egg and spoon race, three legged race, long jump etc…)
Theme your meals for summer
Just because you're not be taking a trip abroad this summer does NOT mean you can't indulge yourselves in varied cuisines from around the world. Why not try planning your evening meals one week around the different themed cuisines of classic holiday destinations. For Greece try making lamb koftas with pita bread, Spain could be a simple paella, and for Italy try your hand at making some delicious homemade pizzas with the kids!
Make the most of the sunshine
By all accounts, we are set to have a sun-packed summer, allowing you to take advantage of the great outdoors with the kids for free! Long walks in the countryside, football in the park, a family trip to the beach, the local lido swimming pool or a leisurely bike ride can all make for completely free fun in the sun. Just don't forget the factor 30!
Summertime picnics
Personally, I love nothing better than organising a group picnic with friends and their young families during the summer holidays. You can take along the kids' bikes and scooters to keep them entertained whilst you relax with friends. It is always great fun to eat 'al fresco' and, what's more, if you divide up who will be bringing what to eat and drink at the picnic, it can be a cheaper alternative to meals out in restaurants!
Re-discover your home town
When was the last time you checked out the 'what's on' guide for your local town or city? Chances are there are a massive range of activities for kids of all ages right on your doorstep. It's also worth checking out your local library, as they often organise free events around school holidays that are perfect for getting your kids interested in reading.
Get crafty
Make the most of the odds and ends you have lying around the house and get creative. Kids love arts and crafts and you'll be surprised how much time the can spend making objects out of toilet roll holders and pasta shapes!
Find offers and discounts
From the back of your cereal packet to discount code sites, don't pay full price this summer!
A big thanks to George Charles, personal finance expert at www.VoucherCodesPro.co.uk who provided some of these ideas.