Free DIY classses for kids this weekend with B&Q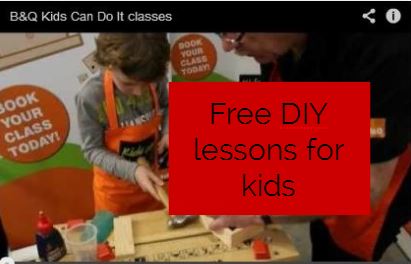 Stuck for something to do at the weekend? Got a kid who wants to join in when you are fixing things? Well here's an interesting offer – B&Q is giving FREE DIY classes for kids this upcoming weekend on Saturday 23rd and Sunday 24th August.
I know my kids would love these fun workshops, and if you are looking for something to do as a family, this offer would be perfect. Here's more info.
B&Q kids workshops are fun and a chance for you to enjoy making something together:
We'll show you step by step how to make something from scratch
We'll let you have a go yourself under the guidance of our DIY experts
We'll teach you new skills such as sawing, drilling, gluing and nailing
Ages of 7-11 accompanied by a parent or guardian
With more than 15 workshops to choose from there is something for everyone. One week you might be making mug holders and the next perfecting planters or building bird boxes for the garden, but all under the watchful eye of our very own kids workshops experts at selected B&Q warehouses.
Here's a cool video that explains the offer some more: https://www.youtube.com/watch?v=9xUBr6cd1QM