Boris and the Dumb Skulls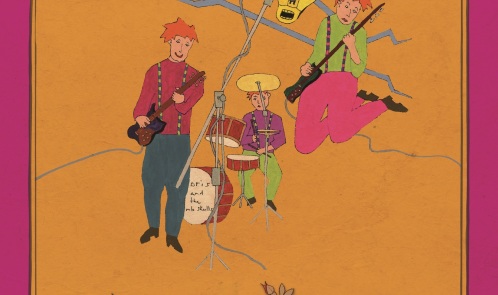 In my Christmas gift round-up recently, I mentioned the above childrens' fantasy book and got hold of a copy, and asked my 10 year old to review it. He said that he would recommend it to a 6 or 7 year old who is a good reader or under 10s with their parents if they need help reading. I tend to disagree with him as I think you'd have to be a very, very good 6 or 7  year old reader to finish this book alone. He read it in around an hour session – it's 36 pages of text and  36 pages of images.
His favourite character was Boris, the pet skull. He belongs to a witch called Griselda who keeps Boris and dim dwarves Dumb Skulls captive. They have enough of this and form a punk band to get away. The story develops with other characters (dead ancestors) that break of our their glass tanks. He said that it follows the formula of most books – there's a happy ending.
He thought that the book would make younger children laugh and that the images on each page would keep their attention. I also thought the images made the book stand out from other children's book – lots of bright images. I asked if he thought younger children would be scared and he said no as they may find the characters funny rather than scary.
I asked him how it compares to books like Skulduggery Pleasant and Lord of the Rings, and he said that it's for a much younger audience and very different from anything he's read before – in a good way.
The cast is also really strong, from magic cats, mummies and vampires, so he said that the book was great for his imagintion as the characters were very colourful. Just like the illustrations.
Would he recommend it: yes to a younger children.
The book is available for £7.77 for a hardback at Ramion and is a part of a series.