Awesome family game gift idea – Mr & Mrs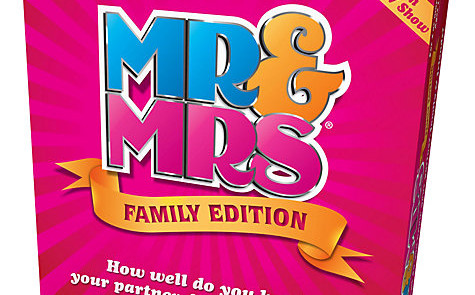 As part of my series on Christmas gift ideas, here's a TV gameshow game that I would recommend. Either for yourselves at Christmas as after-dinner party game or as a gift for another family or couple, this is a great game. Athough it's called Mr & Mrs, any pair can play, so we had Mr BH and his sister vs me and my son, and we laughed A LOT. We had five people so the "spare" became the host.
In the game, you get question cards, paddles cards, pads – the only thing you need to provide yourself is the pens/pencils. Questions are multi-choice and include "who would your partner say has the best smile in the room", "where would your partner like to go on holiday most".
There are some expansion packs that you can buy so you can get more questions if you find yourself recycling the same ones, but included in this pack are some blank question cards which you can use to write down your own questions.
I would recommend the game for family get togetherness. We played it after dinner and had a great laugh. This game is for 10+ years and will definitely get you giggling and having fun. Even our kids enjoyed it.
The lowest price I found is John Lewis at £21.49 including delivery, though there is free pick up in store if you have one nearby. Also there is a pocket version at around £8.
Here's the bumpf from the packaging:
"Would you be surprised to find out what your partner really thinks, or can you read them like a book? Find out with this new game based on the hit TV show All Star Mr & Mrs. Pair up with your romantic other half, or even a friend or family member to answer in-depth and entertaining questions about each other.
 Mr & Mrs Family Edition contains questions suitable for adult couples, families and even boys and girls from the age of 10. With over 1,000 new questions designed to uncover things you may not know about your nearest and dearest, Mr & Mrs Family Edition is a great way for players to spend time together. It even includes some blank cards so you can write your own embarrassing questions. Guaranteed to cause laughter, blushes, blank looks and a whole lot more!"