Workwear clothing and Workshop tools at Aldi – specialbuys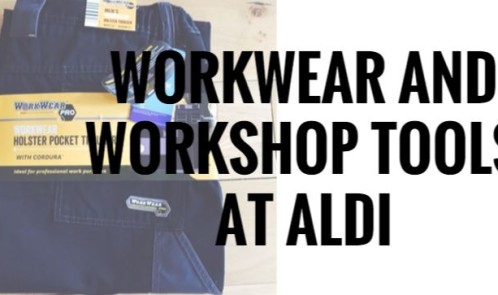 I am in the middle of a refurbishment job and so this Workwear range has come in very handy for me to butter up my builder, who loves the gloves, soft shell jacket and the trousers best.
The quality of Aldi Specialbuys Workshop range is good and that opinion is from my builder. Featuring a great selection of power tools, functional clothing and accessories suitable for both home and professional use, Aldi's Workshop range has been in store on 5th February and is available while stocks last.
The Premium Softshell Jacket is £19.99 and Premium Pro Holder Pocket Work Trousers (£19.99) boast durable CORDURA® fabric re-enforced knees, hems and holster pockets for longer-lasting performance and a selection of functional features including a phone pocket and handy holster loops for tools.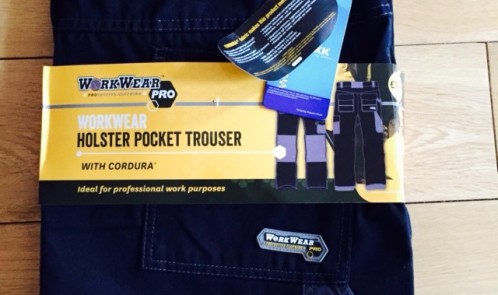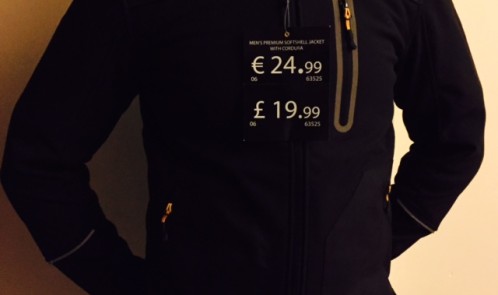 My builder is working in the cold – no heating and lugging stuff outside – so it's essential to stay warm. Aldi has a wide selection of top quality, functional clothing and accessories from Thermal Builders Gloves (£2.99), Softshell Gilets (£14.99) and Fleeces (£9.99), to Dickies Thermo Socks (£3.49) and Base Layer T-Shirts (£9.99) and Trousers (£7.99).
Protect your feet with Aldi's Premium Safety Boots (£19.99). Featuring steel toe caps and midsoles, a tough 100% nubuck leather upper section, and sturdy ankle support, you can be confident that your feet are well protected when on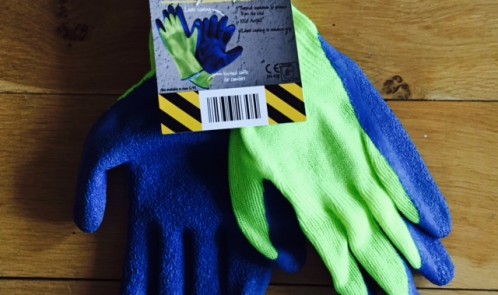 site.
As well as clothing, there are tools in Aldi too. This 24V Cordless Hammer Drill (£39.99) features a keyless chuck, 16 torque settings and an LCD charge indicator. Pick up Aldi's 204 Piece Drill Bit Set (£14.99) and you'll be able to make light work of even the most difficult of jobs.
Ensure that whatever you're working on stays put with Aldi's Table Vice/Suction Vice (£6.99). With a ball joint offering 360° movement, an aluminium body and rubberised jaws to avoid causing damage, this fantastic device is guaranteed to make your life easier.
Tackle precision jobs with this useful Digital Caliper (£8.99) which features a large LCD screen and can measure both internal and external dimensions in graduations of 0.01mm.
This 38 Piece Angle Bracket Set (£2.99) includes a wide selection of corner braces, angle brackets and mending plates in a variety of sizes. Ideal for making repairs, putting up shelves or creating wooden structures from scratch, simply screw in the brackets with Aldi's MDF &Drywall Screws (£3.99) then stand back and admire your handiwork.
With other essentials ranging from 3 Pin Plugs (£3.99) and Rapid Set Cement (£4.99) to 3-In-One Oil Spray (£1.99) and Spray Paint (£2.99), Aldi has everything you need to do it yourself this February.