Wood burning products – Aldi Special buys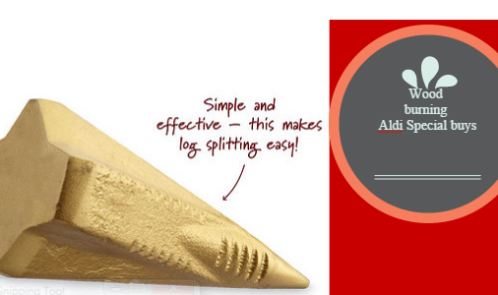 What with record numbers of permits being issued for domestic wood collection , it seems that wood burners are a real option to reducing energy bills.
And check out this statistic to support the trend – according to David Spencer at the Stove Industry Alliance, 180,000 wood-burners were installed last year, with close to one million homes in Britain now having one. The National Association of Chimney Sweeps says business has increased 40 per cent over the past couple of years as a result of this stove mania!!!
With the wood burning stove trend growing, Aldi's new addition – Wood Burning Range – is well timed. The new range has everything you'll need to prepare your own fuel and keep your wood burner going as we approach the winter months.
You know the price is going to be good and they say that they aren't compromising on quality, so pop along as it's in stores NOW; while stocks last.
Featured as part of the new Wood Burning range are:
The FOOT OPERATED LOG SPLITTER (£39.99) does all the hard work for you – check out this video here which shows you how. Made from heavy-duty steel, this robust log splitter can handle; logs with a diameter of up to 25cm, with minimal exertion required.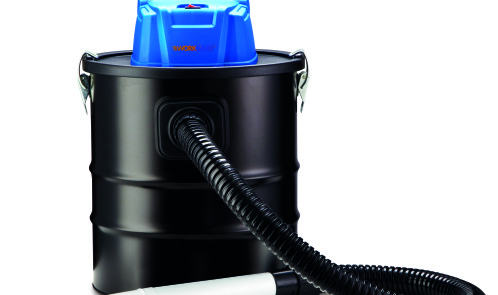 Cleaning out your wood burner after you've had a fire can be a messy and time-consuming job, but with Aldi's ASH VACUUM CLEANER (£29.99) and stainless steel GLASS SCRAPER (£3.99), your fireplace will be spotless in no time.
If you'd rather do it the old fashioned way, you can make light of heavy work with Aldi's IMPACT LOG SPLITTER (£6.99). It features a diamond-shaped design, meaning logs will split into four pieces, and a pointed tip to minimise the chances of slipping. To use, simply strike the splitter with a heavy object such as this SLEDGE HAMMER (£12.99)with its sturdy fibreglass handle and 3.5kg head, or with a lighter CLUB HAMMER (£4.99) for smaller logs.
Preparing your own fire wood is a great way to save money. This sturdy but lightweight 450g carbon steel SMALL AXE (£4.99) is ideal for cutting, chopping and hacking away at smaller branches.
For larger trees or logs, Aldi's full-size 2kg AXE (£12.99) is just the tool for the job.
Put anything that doesn't make the cut into their INCINERATOR (£17.99). With its 85 litre capacity and sturdy galvanised steel frame, Aldi's incinerator offers a quick and eco-friendly way to dispose of garden waste.
Test your logs with the handy DIGITAL MOISTURE METER (£12.99) to ensure they're properly seasoned. Quick and easy to use, the convenient device can measure moisture levels in a variety of materials.
Maximise efficiency by burning fuel at the optimum temperature with the help of Aldi's STOVE PIPE THERMOMETER (£3.99). Attach the magnetic device to your wood burner to achieve an accurate temperature reading and ensure you're getting the most out of your fuel.
Aldi's Specialbuys Wood Burning range went INTO STORES 4TH SEPTEMBER.