Value cleaning products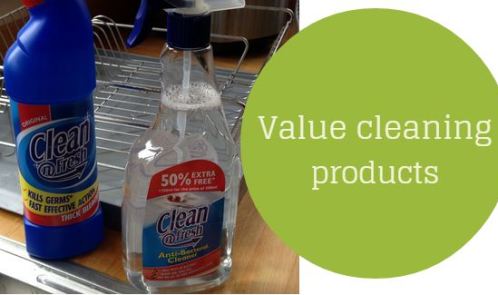 I HATE cleaning but must admit that my house isn't dirty. The luxury of a lady who does for me two hours a week is a major factor in this.
She really is a luxury for me, but I figure that she's equivalent to the price of five fancy coffees a week. As I don't drink coffee or buy my lunch at sandwich shops or coffee shops, she is my treat and IMHO a bargain for me.
Unfortunately, two hours a week isn't enough to keep my abode spic and span, so I am always looking for good value cleaning products. I tried HOME2HOME and have still not finished the hand wash or cleaner that I bought in 5 litre bottles a year back, so the price was definitely right. They don't sell everything I need though.
A great recent find – my cleaning lady recommended it – is the erase away sponge. She brought me one and I liked it so much that I bought some more. Unfortunately I selected a six pack from a pound shop. It wasn't worth the money and disintegrated while I was using the first one.
Through this bitter experience I have learn that I sometimes (not always) need to go for trusted names, such as Oven Pride. Now I have used their oven cleaner and stocked up when Aldi had it for £2.99 – it is a miraculous thing – it's at Asda for £2.98 at the mo, so get it seriously, it's the best oven cleaner ever!
Oven Pride's Erase Away sponge is just as good. Got rid of marks that had been on my walls for a while and have helped me stave off painting the kids' room too. I found Erase Away at £1.00, that's £1.58 cheaper than the leading alternative brand. That price is in Poundstretcher or at www.mcbride-direct.co.uk.
Now there are quite a lot of cleaning products that are so generic that I don't see the point of selecting premium brands. I mean bleach is bleach isn't it? But by switching to budget alternatives on cleaning basics like bleach and anti-bacterial surface cleaner could save you over £45 a year* to splash out on some of life's luxuries.
Here are some examples that were sent to me from Poundstretcher – use Clean N Fresh Antibacterial Surface Cleaner Spray to remove 99.9% of bacteria at a  bargain price of just £1.00 per 750ml, which is £1.90 cheaper than the leading alternative brand. You can make savings of over 50% on bleach for your bathroom with Clean N Fresh Thick Bleach. This household staple is just 49p per 750ml, which is 56p cheaper than the leading alternative brand. If you are buying in bulk, take a look at www.mcbride-direct.co.uk as they specialize in cleaning products and do free delivery with orders over £30.
A shiny clean house is something I covet, but I definitely won't be paying over the odds for the cleaning products I use.
The small print: *Saving correct as of 5/8/14, based on purchasing the three hero products at RSP once a month for 12 months, instead of the three leading alternative brands. Calculated on 5/8/14 using the average product selling price from the last 12 months at mysupermarket.