Save water save money – free water saving packs

I stumbled across this website today and it offers free water saving packs. As long as you're with water companies that are members of this initiative, including Severn Trent, South West Water, Scottish Water, South Staffordshire Water and many more, you can get a bunch of things for free to help you reduce water consumption.
It's really easy, you enter your postcode to check if your water company is part of the initiative and then you arrive on a page with lots of water saving goodies.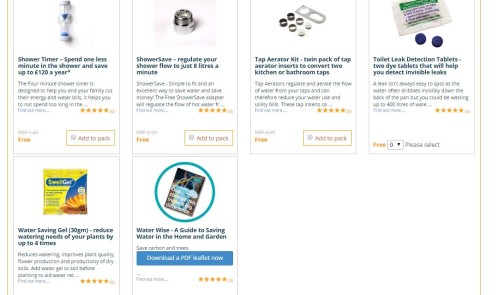 Among the things you can order for free are the following:
Tap Aerator Kit – twin pack of tap aerator inserts to convert two kitchen or bathroom taps
ShowerSave – regulate your shower flow to just 8 litres a minute
Shower Timer – Spend one less minute in the shower and save up to £120 a year*
Water Wise – A Guide to Saving Water in the Home and GardenI also ordered some water saving gel for my plants to reduce the watering needs of my plants by up to four times. They should arrive within 21 days and will cost me nothing.